This is a picture of the outside of the casa in which I live: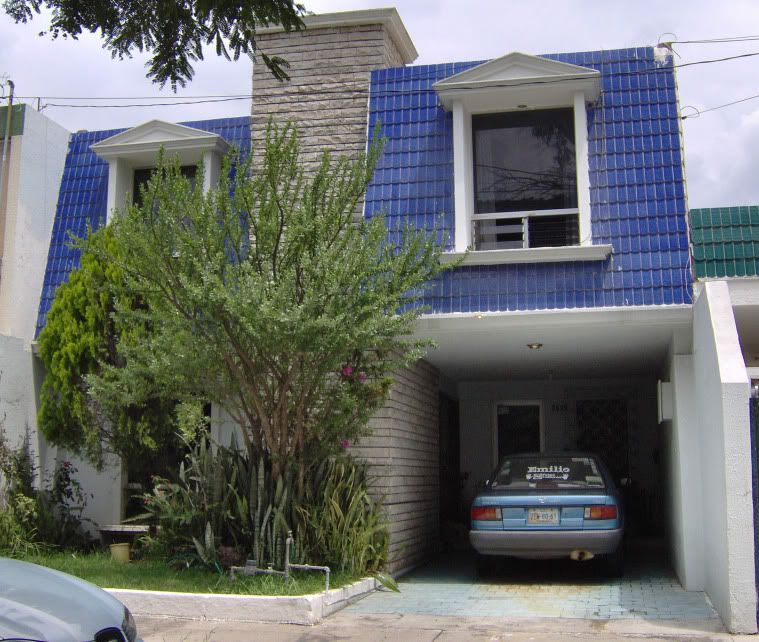 This is my some of the things I see that on my trip home from school each day. I have to look for the Europa liquor store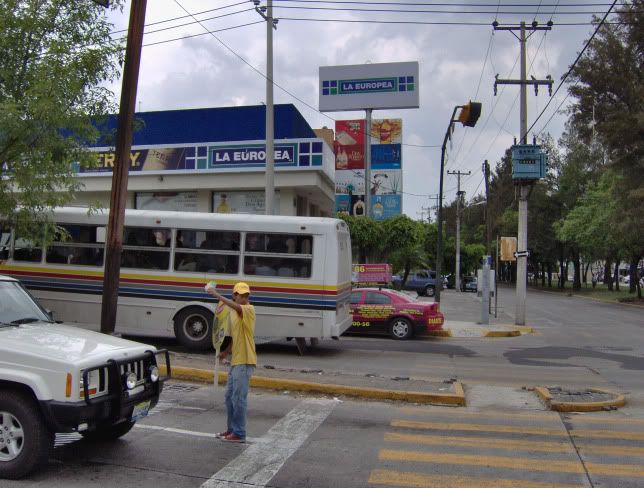 and the Super Gigante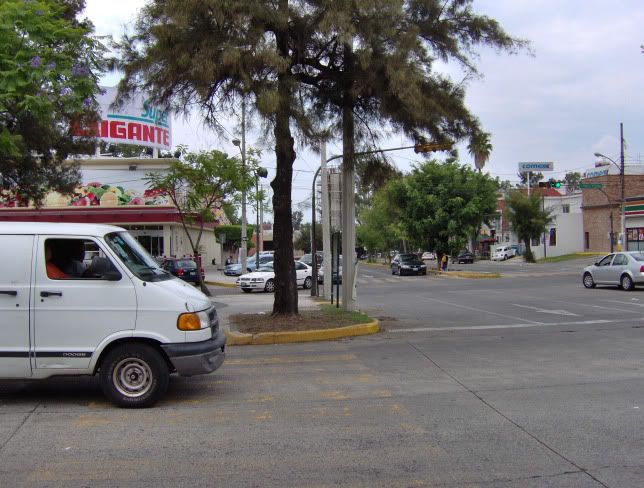 when I want to stop the bus.
There are some nice buildings and restaurants on the way home.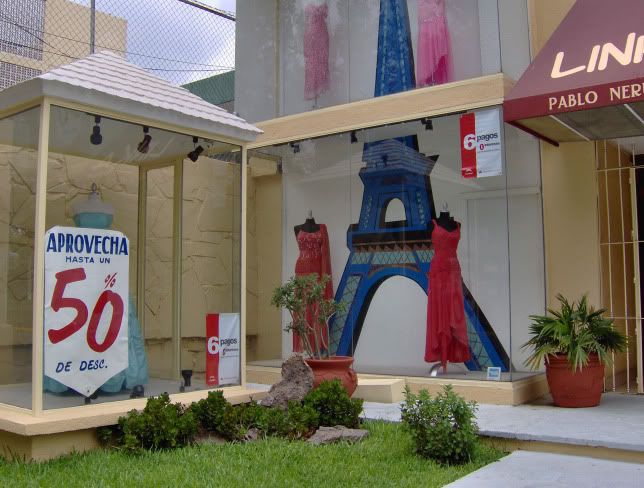 The dress shop is where we catch the bus each morning, so I'm not sure why we have to walk 4 more blocks to get home than to catch it. This is cafebarracafe,
my Mexican love because I figured out how to use the internet there and regain connection with the rest of the world! And it's only 3 blocks from my house. This is the pharmacy where we go to call people at the pay phones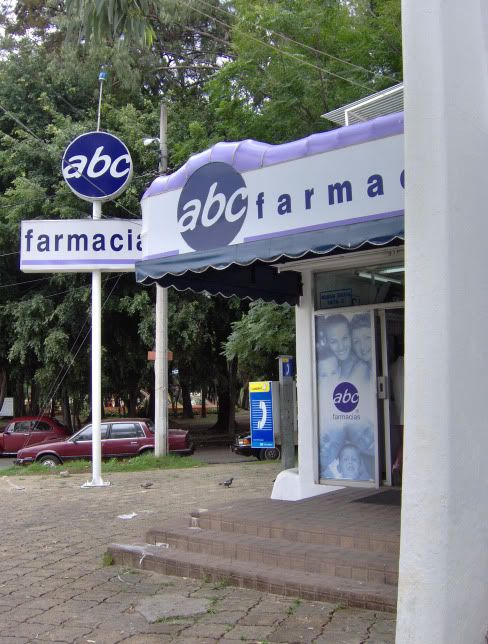 .
So on Monday, Holly and I decided to just hang around the house because we didn't know how busy our homework would keep us. I got to use the internet at cafebarracafe that day and talk to mi novio and mi familia so I was muy feliz. Our food was really good that day! We had some kind of pasta with cheese and tomato sauce [I actually ate those leftovers for dinner tonight – Wed!]. We also had ground beef with a few veggies in it and beans. It was good.
The classes are okay. They are really long, I feel like they have to try to find stuff for us to do sometimes. Plus, it's early in the morning, so I'm trying to keep from falling asleep! I think they will help a lot though. In the conversation class, we read short stories and excerpts and I think that I'm becoming a lot better at reading Spanish – It doesn't take me as long as it used to, which is good because I know I will have a lot of reading come the fall semester!
So on Tuesday, after the classes, I had my cooking class. It was fun. We made pollo rollenos con espinacas, which is literally, chicken rolled with spinach.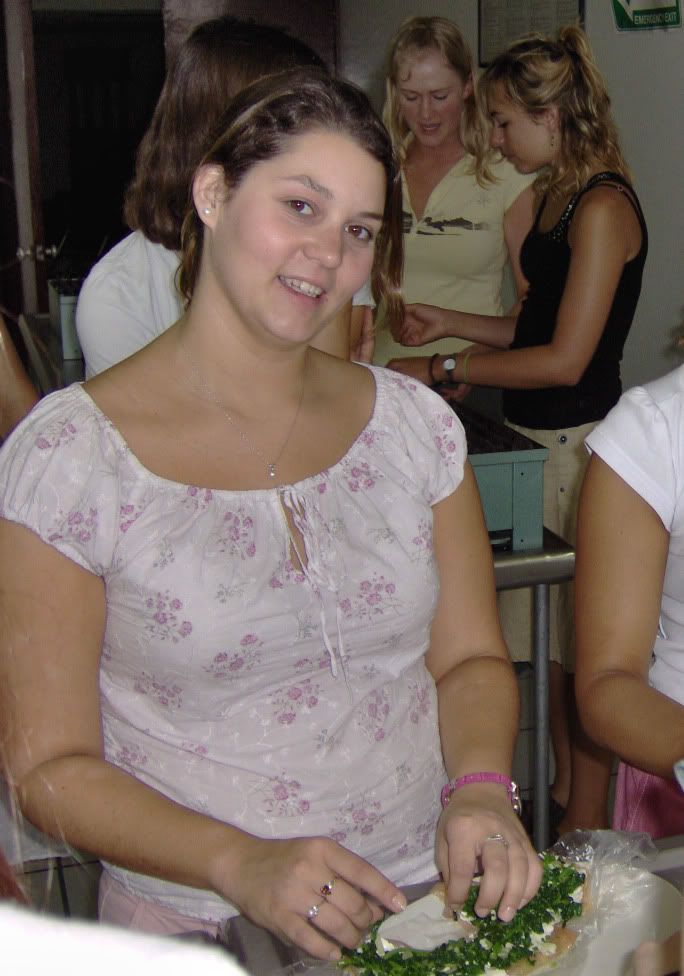 We spread cream cheese on really thin pieces of chicken, then put sautéed spinach and onions in the chicken and then rolled it and baked it. Then we put "salsa" on top which was "pumpkin flowers"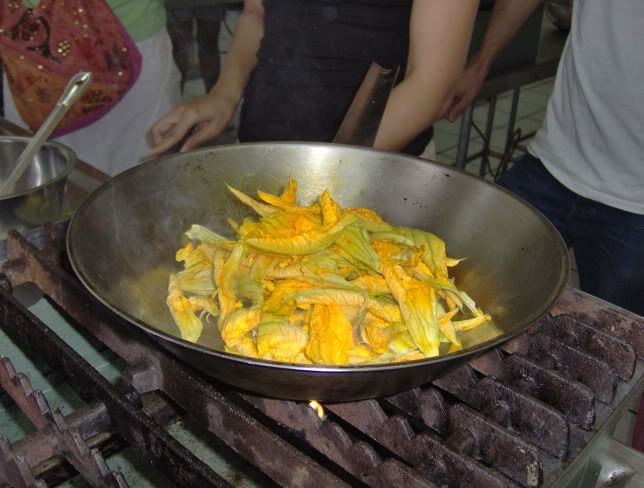 sautéed then put in a blender with cream. It was so delicious! I want to make it at home, but I don't know where to find "pumpkin flowers"! This is me with Jen and Kayla in our clase de cocina.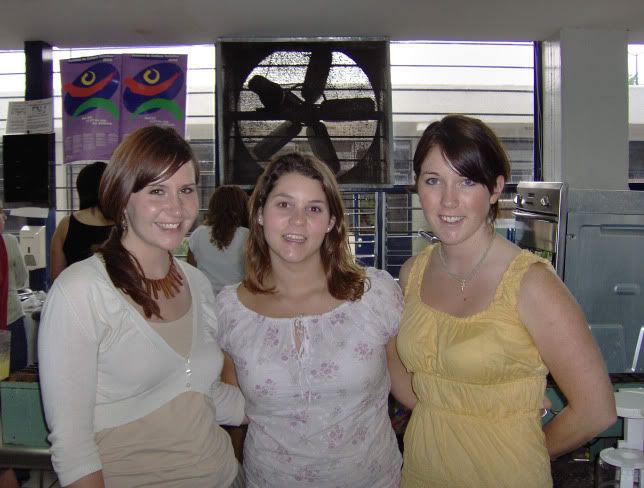 Oh! And we also made chocolate/coffee mousse and it was really good too.
That afternoon I ate la comida [the meal] at home too, because we only got to sample the food in the cooking class. Hilda made fish – Marlin chopped up and mixed with chilis. It was really picante [spicy], but good. We also had some yummy rice and some avocados – I was excited about that!
Later, Holly and I wanted to go to a museum, so we asked Sochtl [Hilda's daughter] how to get to one that we read was open later than the others. Well, she told us and we found the bus, but then a lady on the bus told us that we were on the wrong bus, so we were worried. Luckily we found the street we were looking for, so Sochtl was right and we worried for nothing. Well, maybe she was only ½ right because she told me that we'd have to walk 8 blocks to get there, but it was more like 14! It was okay, there was a lot to look at and we got our exercise!
We found the museum [El museo de los artes de la Universidad de Guadalajara] and it was pretty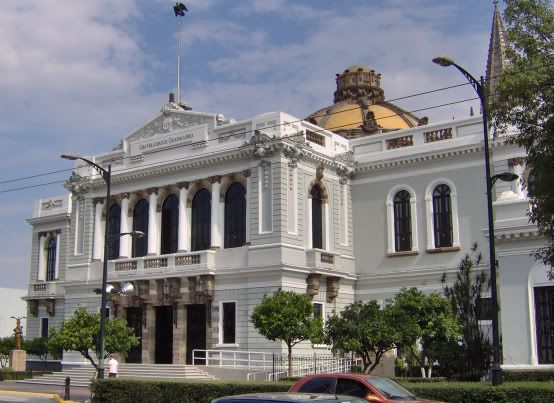 , but there wasn't much inside. It was modern art and neither of us liked it much. I have one picture before I found out that I couldn't take fotos, lol.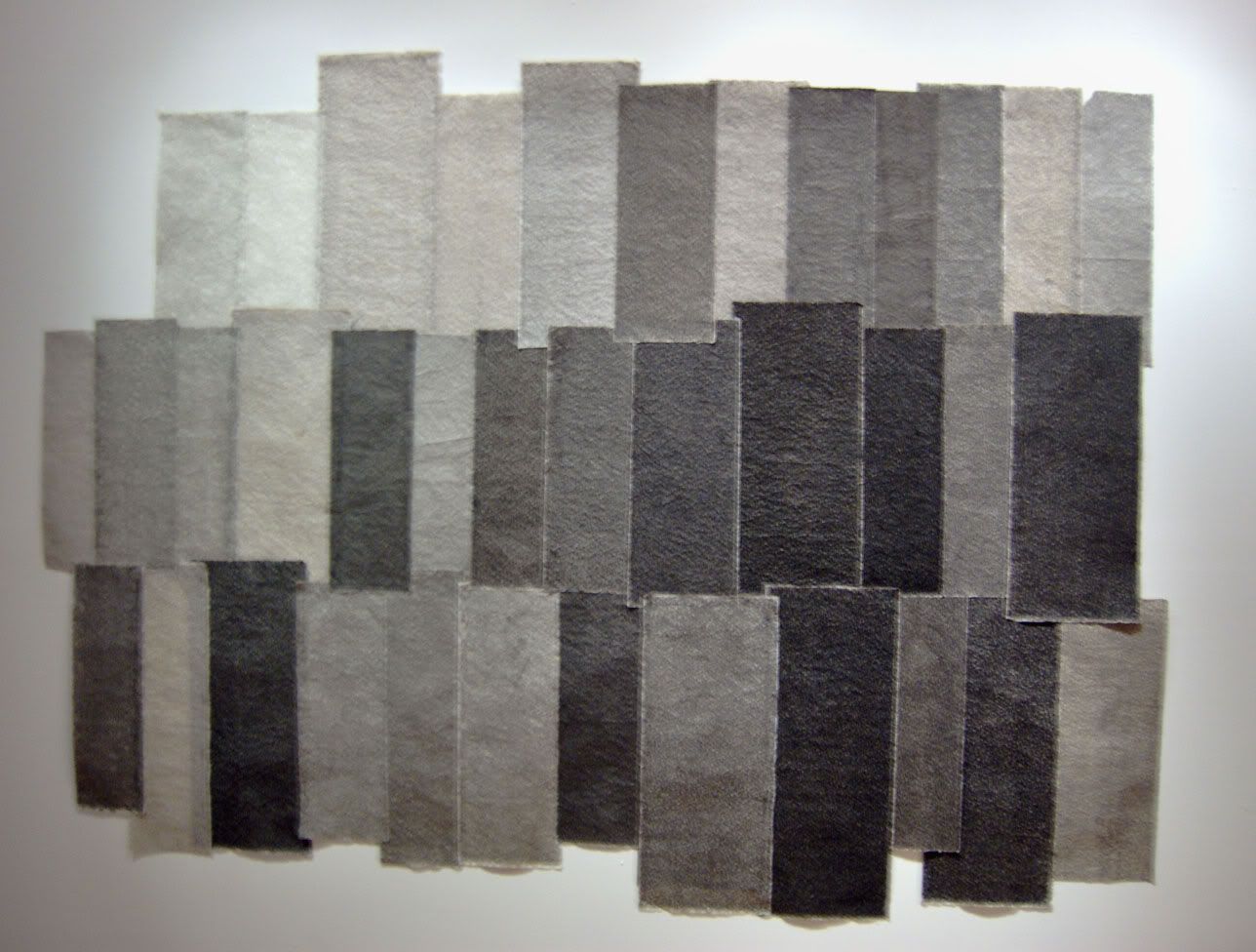 Some of the stuff was really crude and gross, and I wonder, what possesses people to want to make stuff like that, and then why do other people call it art?? There was also another huge painting on the ceiling by Jose Orozco Clemente.
Before I go on, Holly wants me to mention the Mormons. Lol! The last big group of girls that stayed with Hilda were Mormons and they came with a big group from their school. Well, Hilda talks about them ALL the time! Holly said I should just mention how we're all the time being compared to the Mormons. Hilda is such a character. We talked with her today about the Mormons for a long time and we saw a picture of them with her that on the back said that they had a fiesta and Hilda danced with Carlos :). Oh, and just a few minutes ago, Hilda came in to talk to us and I noticed she had really dark lip liner on, and it took me a few minutes but I then realized that she was telling me it was tattooed on! Haha, she said it lasts for like, a year, and then asked if Holly wanted to get some! Haha!
So anyway! We didn't spend much time in the nude-y museum, lol. Behind it was what I called a Cathedral because it was huge, but Hilda told me it was only a Temple because places only have one Cathedral per city. It was gorgeous!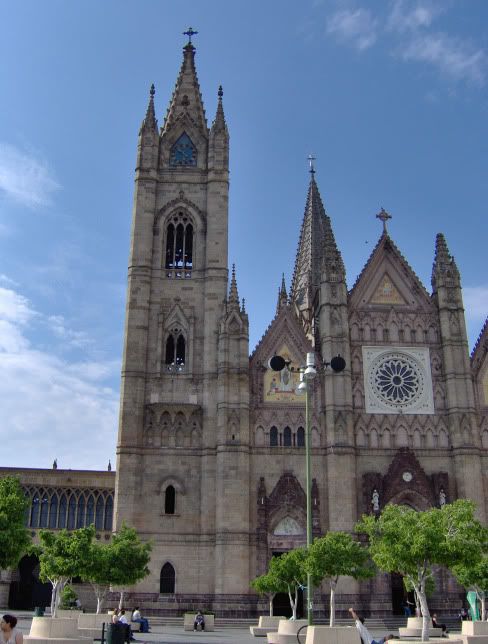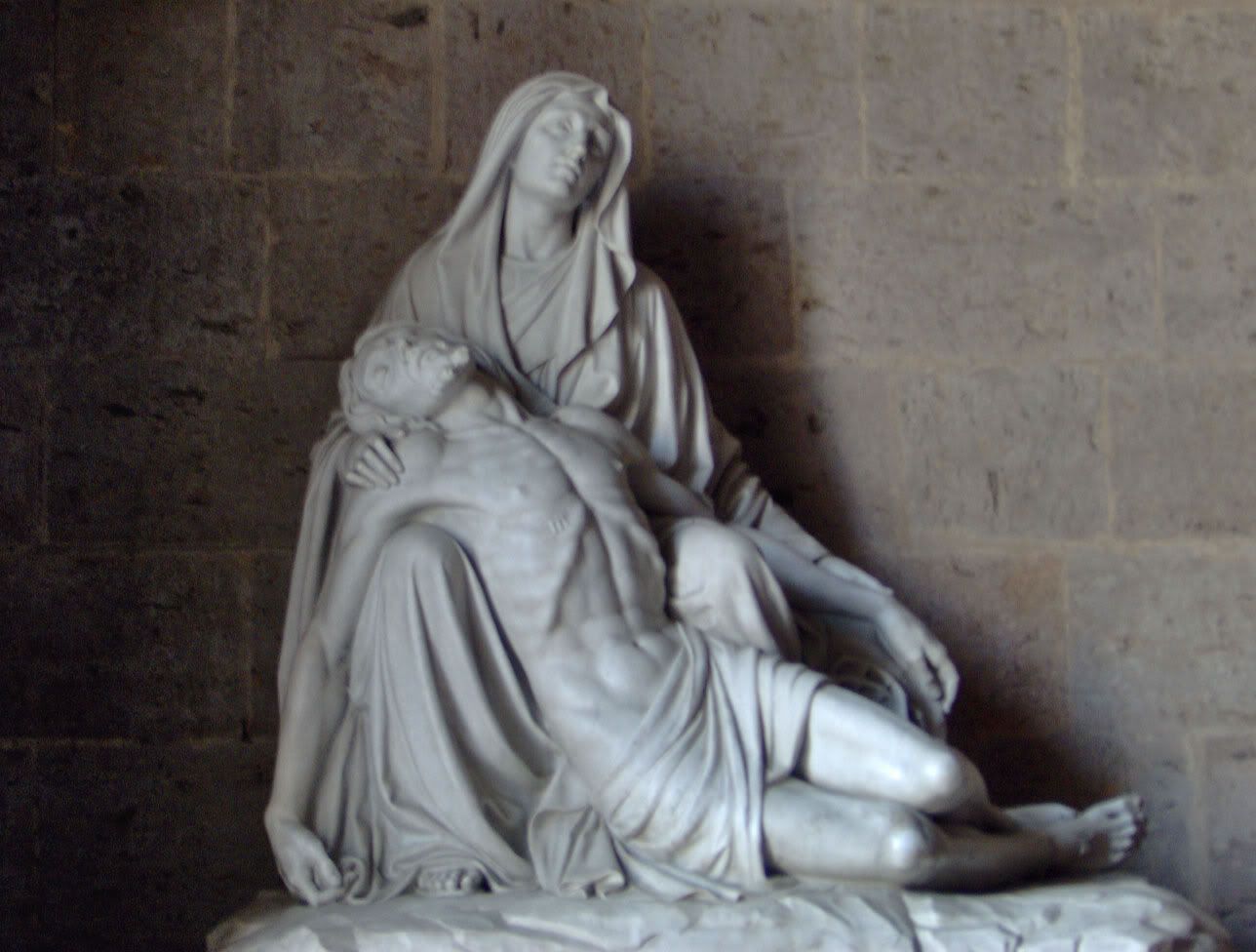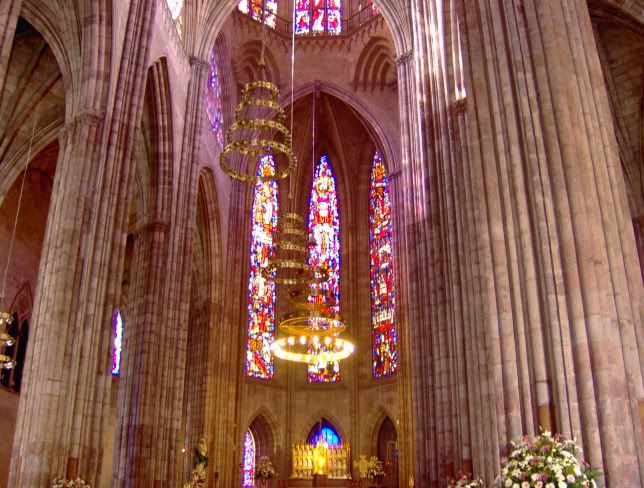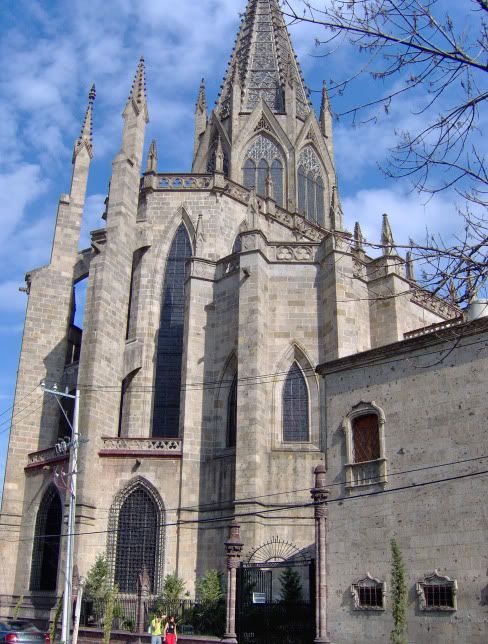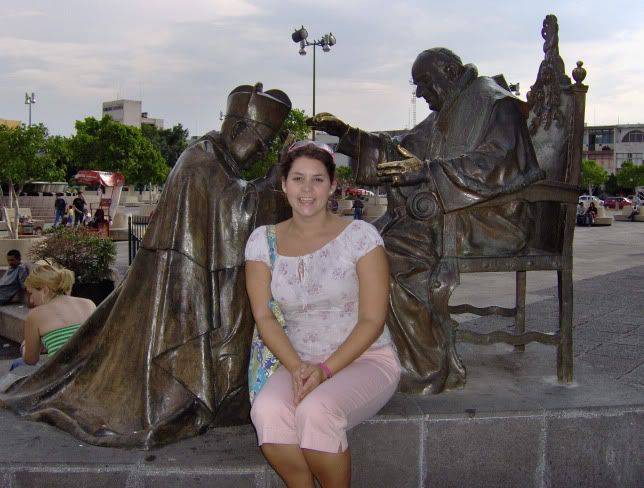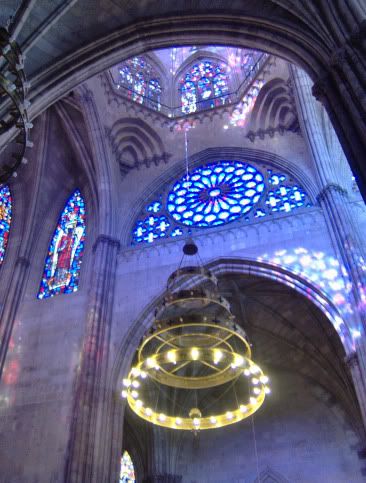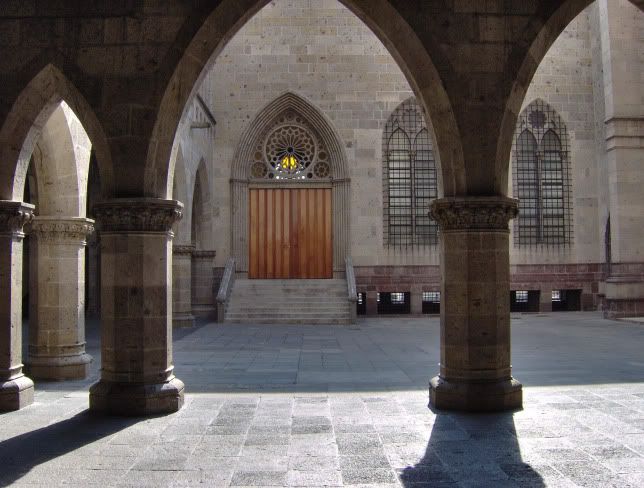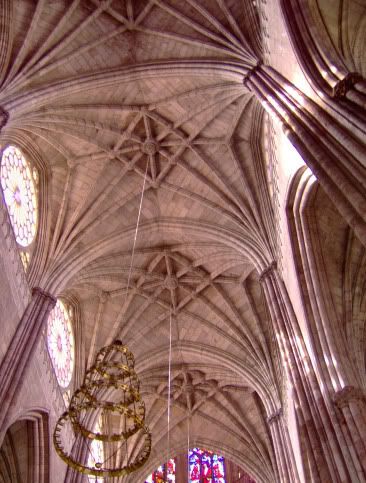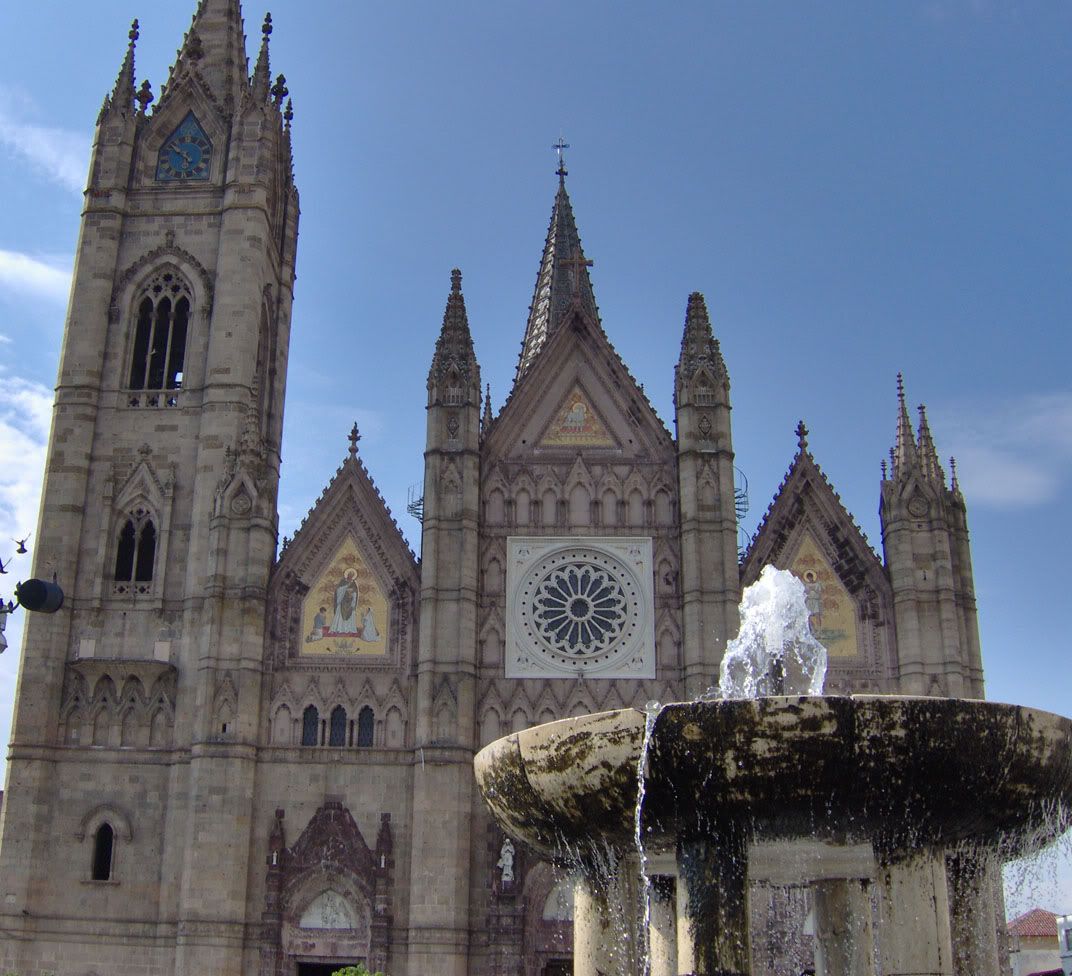 While we were there, outside, the bells rang and from one of the windows came little plastic disciples and Jesus like you see on little Dutch clocks or whatever. It was neat. These places are so gigantic that I can't fit the whole thing into my camera!
Lastly, I tried to take a picture of my elbow bend but it didn't work. I have a nasty bruise from where I gave blood to participate in the diarriah study. It was my first time to give blood from anywhere but my finger.
So, today, we didn't do much. I wasn't feeling great this morning and after we had class and used the computers at the school, we came back here and ate. We had little chicken patties that were really good and rice and mixed veggies and beans. Then I took a nap because I was so tired and Holly went to Starbucks to study because she has a presentation to give in class tomorrow. Besides that, I did my homework and ate and played with Lucia and then did this!
Tomorrow we're going to try to visit some place fun, so hopefully I'll have another update soon!
Adios!