You know, the song? Haha, well anyway . . .
On Friday the school took us to the nearby city of Tequila where the drink was born. Well, Holly and I thought it was going to be more of a see the city trip than it was. Basically it was a tour Mundo Cuervo trip. Lol. Yes, Mundo Cuervo, that is: Jose Cuervo [tequila brand] World - the tequila plant. Actually, some of it was interesting, and luckily the other students were getting carried away by the drink.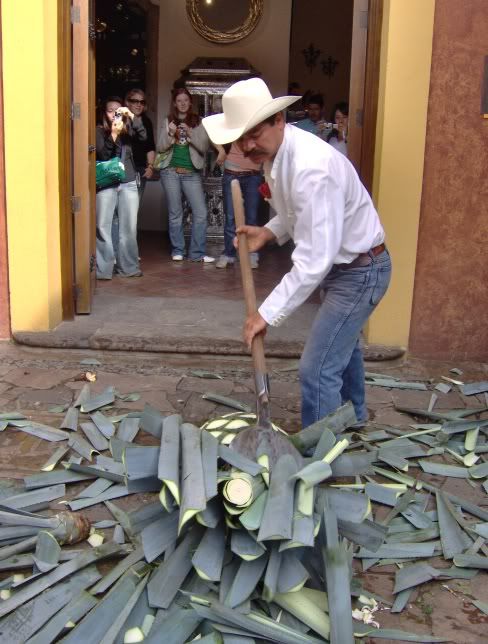 so this is the jimador who cuts all of the prickly cactus like leaves off of the pina plant that they bake and what not to make tequila.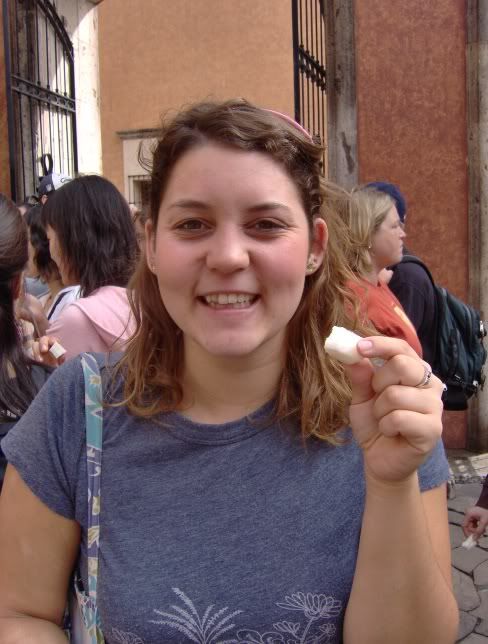 this is me eating part of the pina plant after he cut it. i'm sure it wasn't so clean, but oh well. it tasted like an uncooked potato.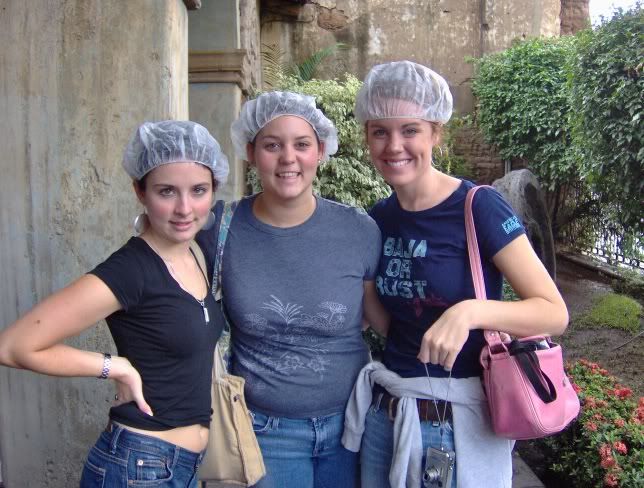 these are my friends, betsy and holly and myself in our sexy glory of hairnets to tour the plant.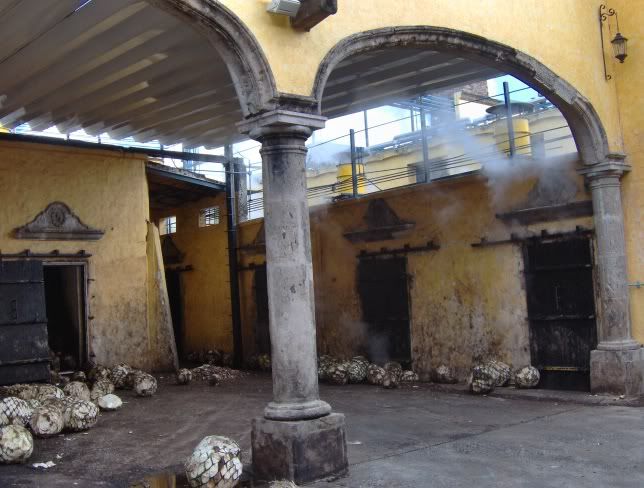 this is where they bake the pina plants for 36 hours.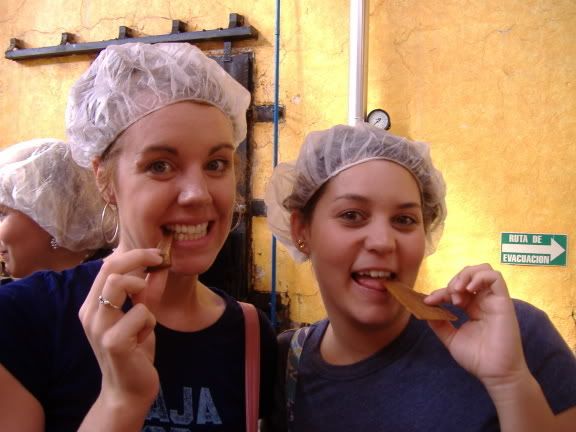 this is holly and i eating the baked pina. don't worry, it's not fermented yet. and it tasted yucky, but it was interesting how sweet it had become since eating it raw.
this is a big fat vat of fermenting tequila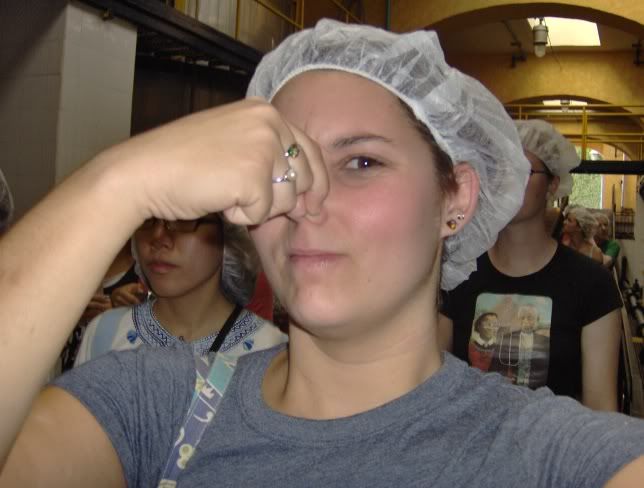 and i thought it stunk. so the rest of the tour I don't have a lot of fotos because we couldn't use flash because there was "liquor in the air" and a spark could have been dangerous. isn't that crazy!?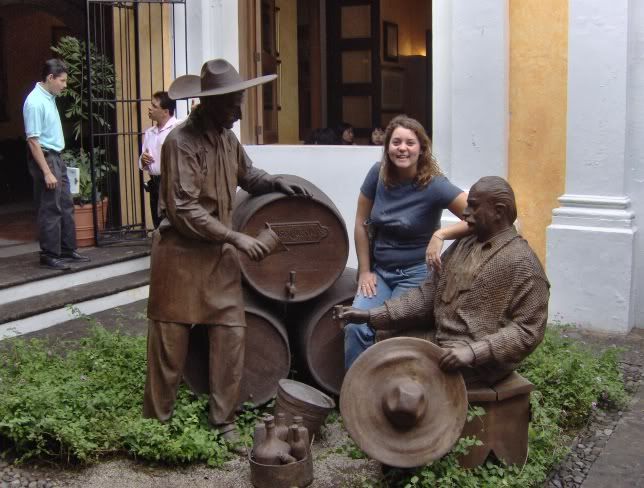 so this is me hanging out with jose cuervo.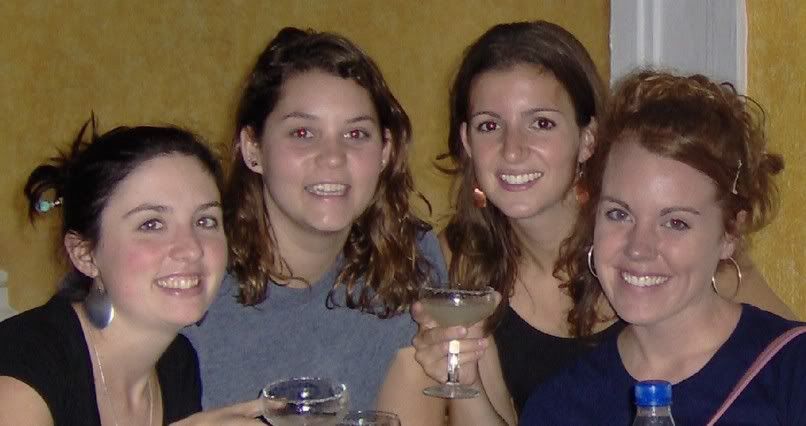 and these are betsy, me, jessica, and holly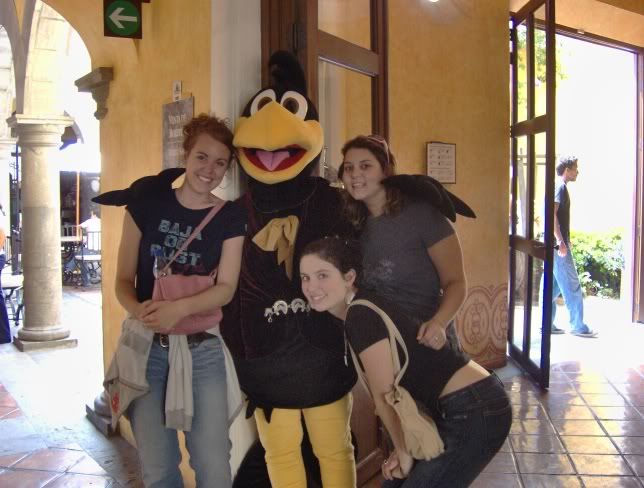 and this is us with the jose cuervo bird!
So of course after you tour the Tequila factory, you go to Catholic church. Duh. We're Mexicans now, it's what they do. Haha, so anyway, it was really pretty. Not too much else to do in the city though, so we just hung out until we headed home soon after.
That night we decided to go "dancing". Well, no one really danced when we got there, but we had fun hanging out. It was actually really fun just getting ready too.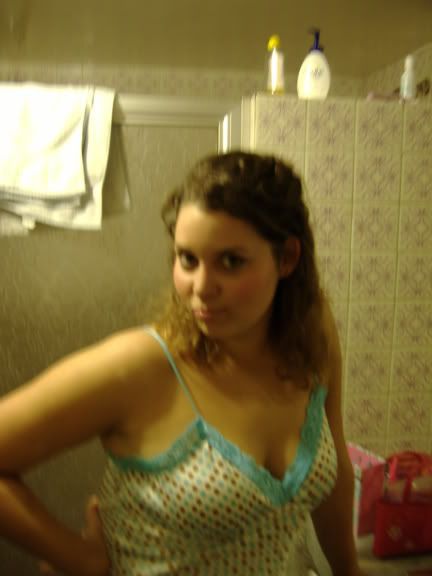 obviously these are our sexy looks. haha, this blog is just filled with our hotness, huh?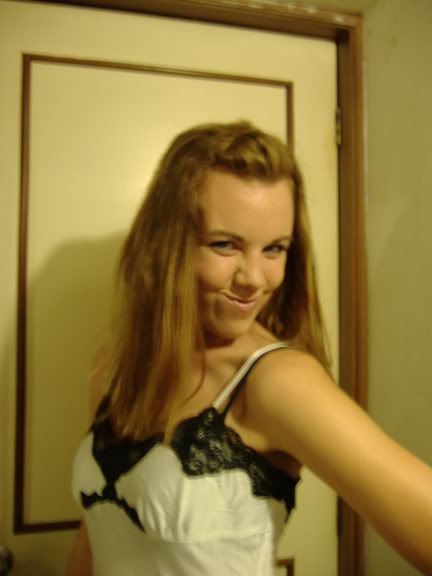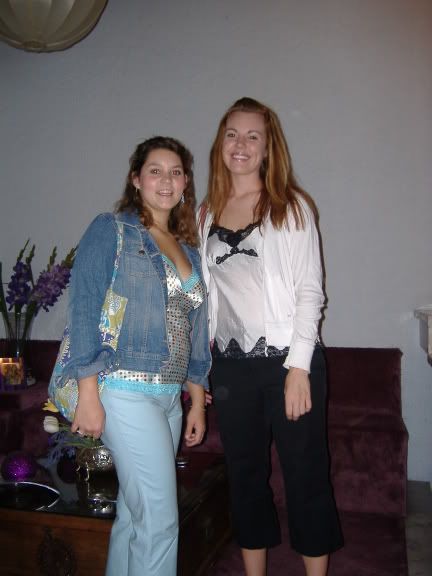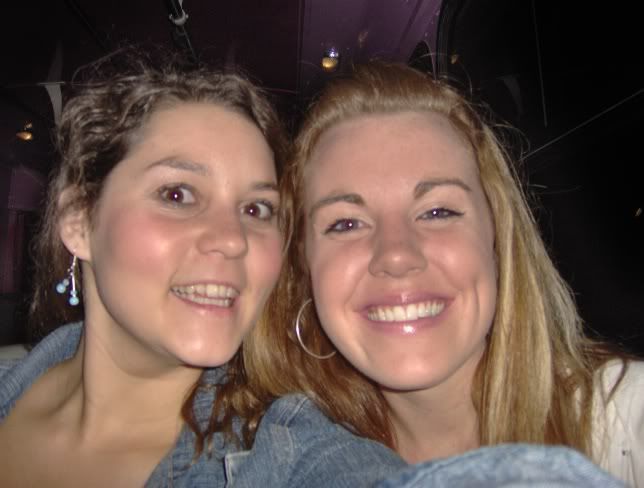 this is us on the bus ride there. the bus was hot pink on the inside and had a purple neon light, sweet.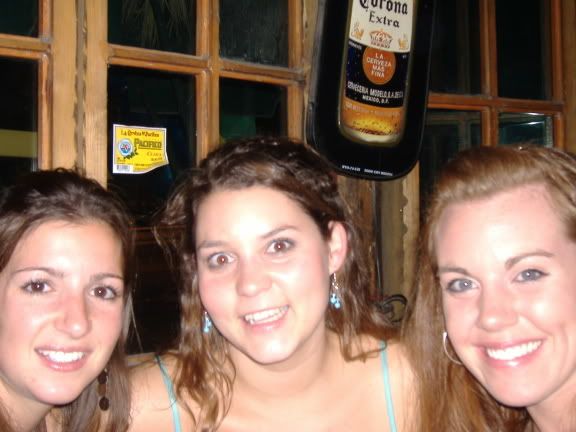 this is jessica, holly, and i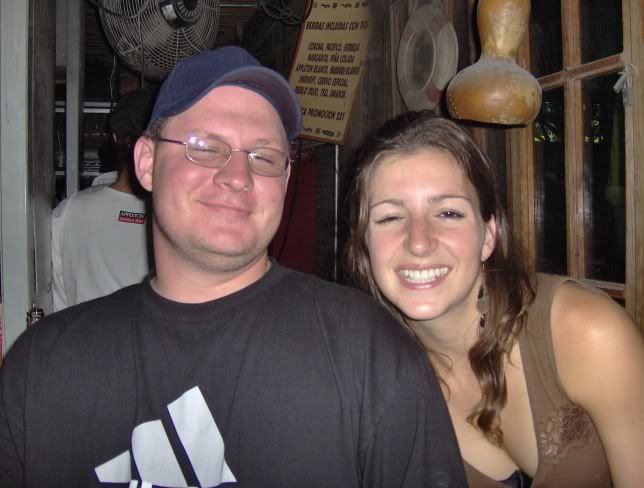 jessica and jeremy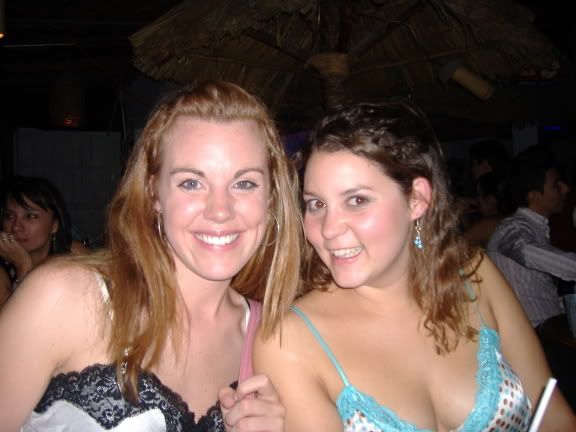 finally, me and holly again.
So the next day we slept in a little, and then we went down the road where we had appointments to get massages. Mine was fabulous, and it was really cheap and half price too! Can't beat it with a stick.
Then we went to a nearby town called Zappopan. I wanted to see the church, and I did a little bit, but there was a wedding going on, so we couldn't go in really.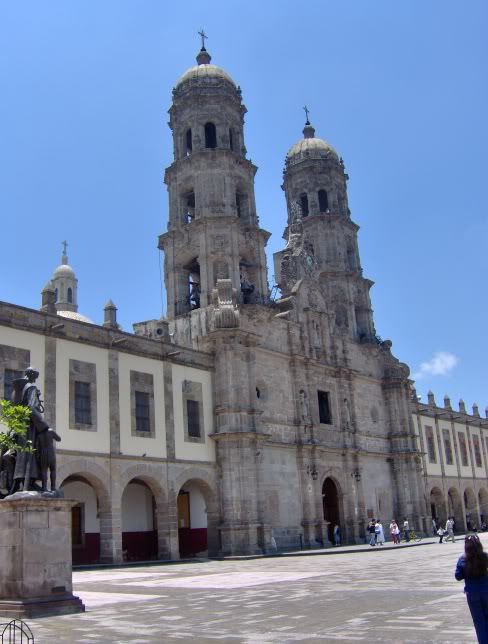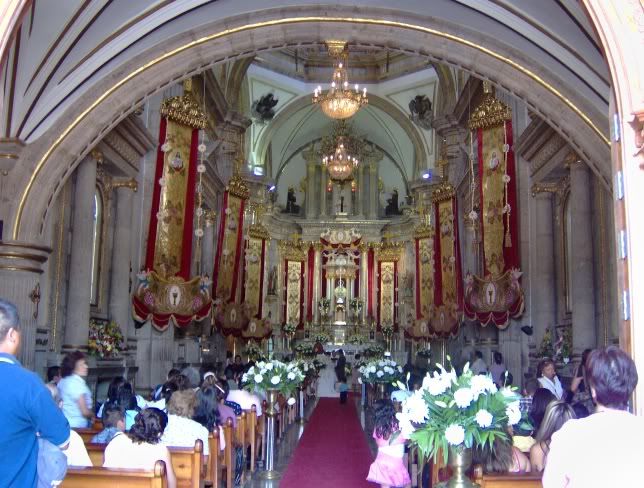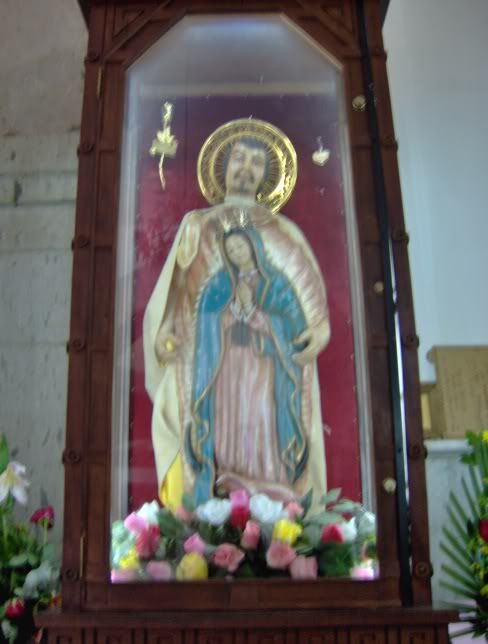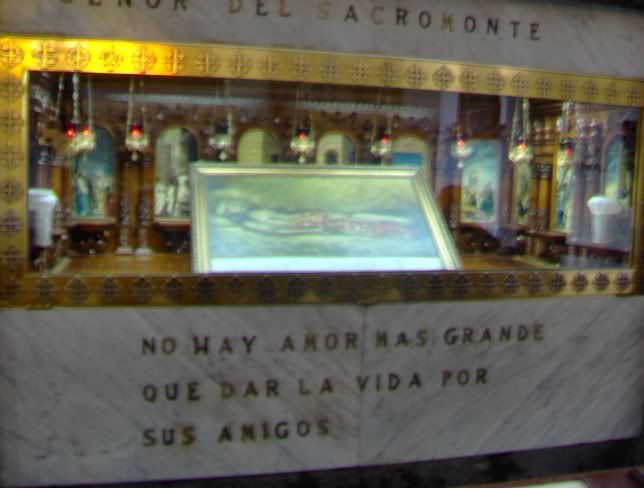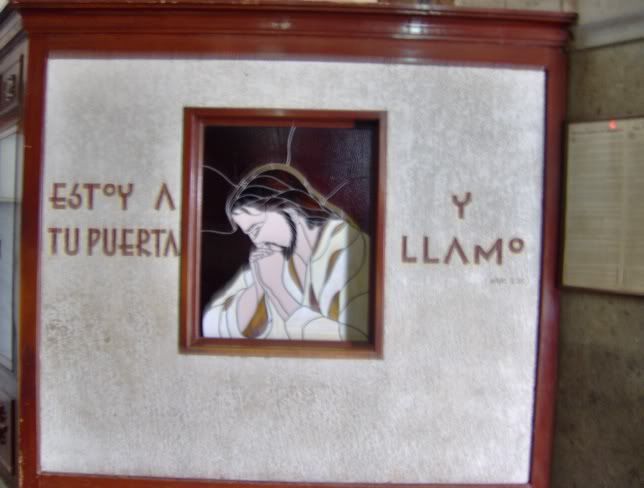 After Zappopan we went to the downtown centro again to go to the market and finish our souvenir shopping. So I'm officially broke as joke, of course.
Yesterday, Sunday, we went to a market that our lady told us about and drove us to. It was neat, a lot of cool clothes and stuff really cheap. She said that she goes Christmas shopping there, and I think that it'd be really cool to come back and buy gifts there. You'd all get really cool things and a lot of them! I got a pair of really cute leather flip flops.
After that we went back to the craft town of Tlaquepaque. I had a couple last presents to get them. They have some really nice stuff. I'd love to go there to furnish some rooms in my house one day!
We didn't have much to take pictures of yesterday. Holly did snap one picture tho! We walked down the road with Xochitl to her old apartment that she and Victor were moving out of yesterday. Well, they hired some cheap movers and you should have see their truck! It was a tiny pickup that was boughing in the middle and they had that thing loaded with every ounce of furniture that Xochitl and Victor own! It was unbelievable!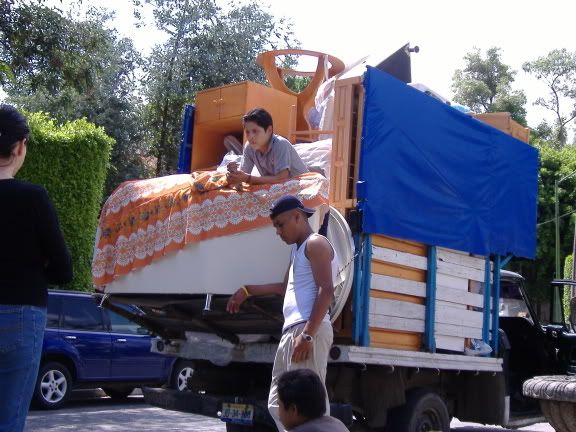 So that's about it, except that I'm so ready to come home!!! 4 1/2 days! I can't wait! I expect you all to be at the airport to greet me. I'm afraid the week is going to go slowly though, because we've pretty much done everything around here, so we'll see.
Adios, amigos.