I had to ask Holly what we did on Thursday, the last day I left off, because we've done so much I can't remember!!
We had lunch at home. We had Taquitos con Papas. Meshed potatoes wrapped in tacos and fried. It sounds gross, but it was actually good with some lettuce, salsa and sour cream! We also had some kind of veggie soup.
Then . . . we went to the movies! I saw my first movie in Spanish in the theaters, and I was excited. We saw Vecinos Invasores – or, for you Americans, Over the Hedge. It was really cute and I was surprised at how much I could understand! I was proud of myself. :)
Oh! Well, Hilda had given us a ride to the theater and was like, oh, it's not far. But while we were riding there, I felt like it was a very long road. Well, when we left, we asked and there were no buses on that road, so we had to walk home and we ended up walking probably two miles! Then, a couple days later we were riding a bus and we ended up right next to the mall/movie theater, we just didn't know to look on the road right next to the mall for buses! But oh well, we walked off those potato tacos.
Then on Friday we came home to a delicious lunch (not really). It was pastel de carne [meat cake, but not meatloaf like we think of it!]. It wasn't very good, but we suffered through. Then we helped Xochitl [I found out how to spell her name! (so-chill)] decorate for Lucia's second birthday party. She was so cute! She loves Barney, so there was a Barney piñata
. Holly and I blew up about a million purple balloons!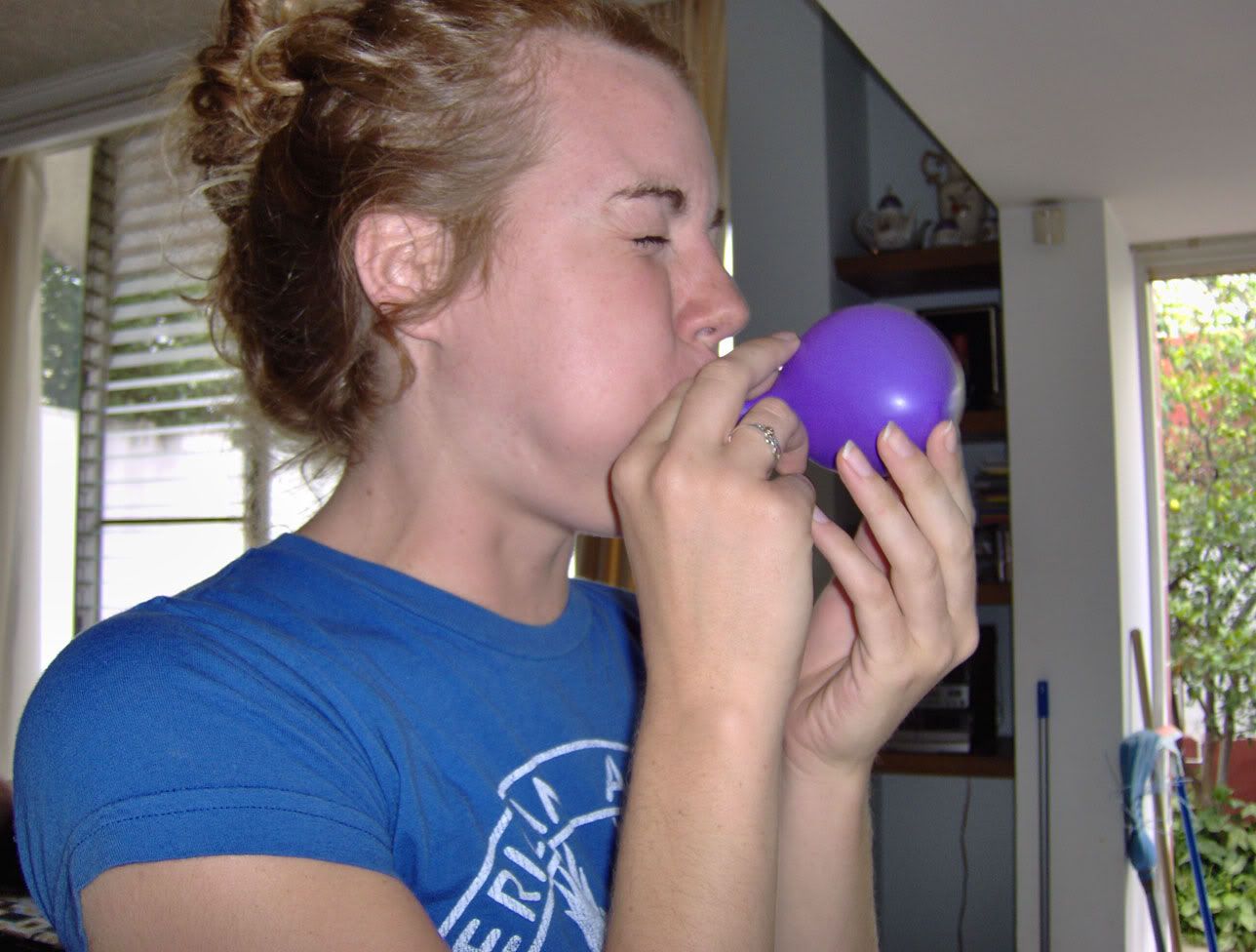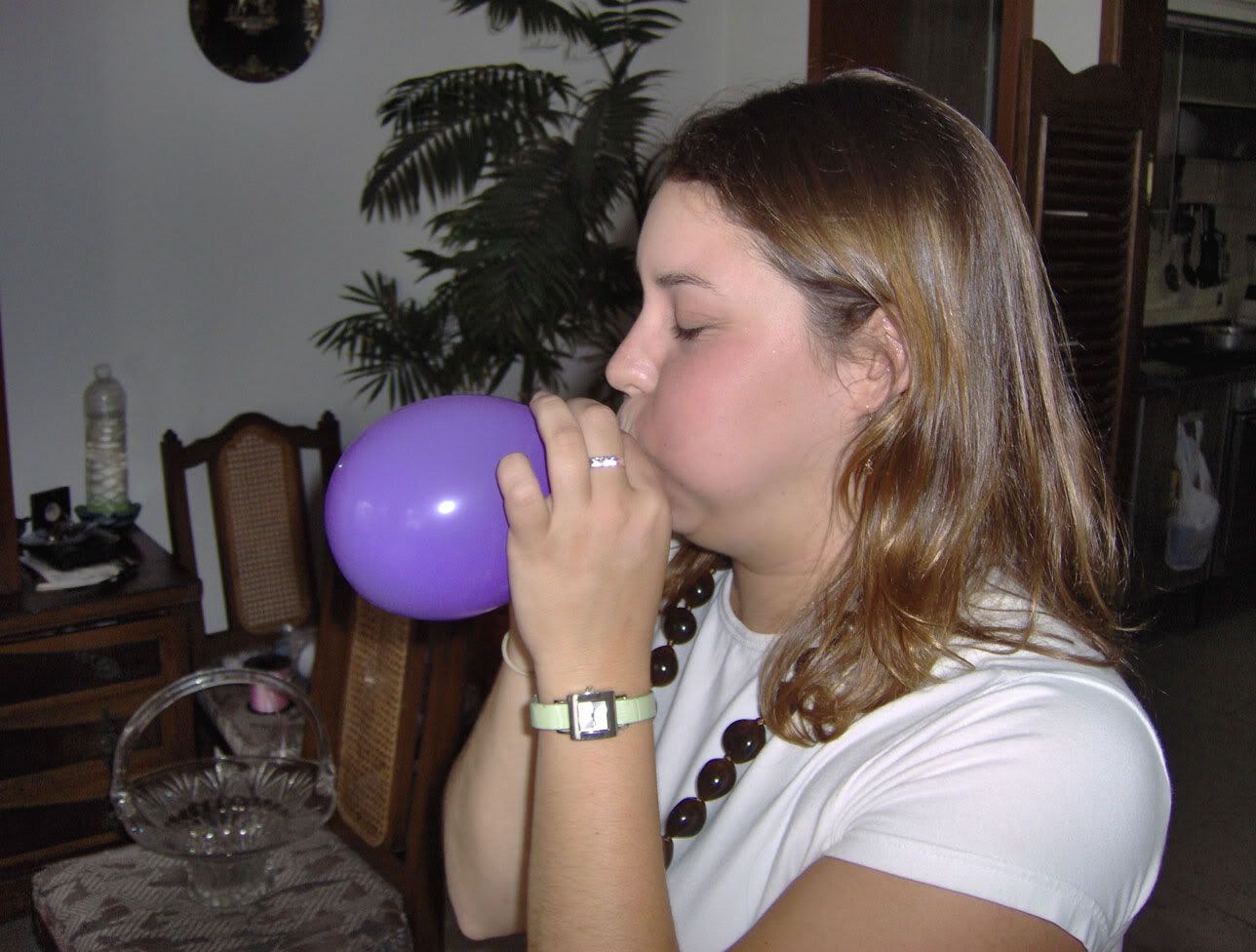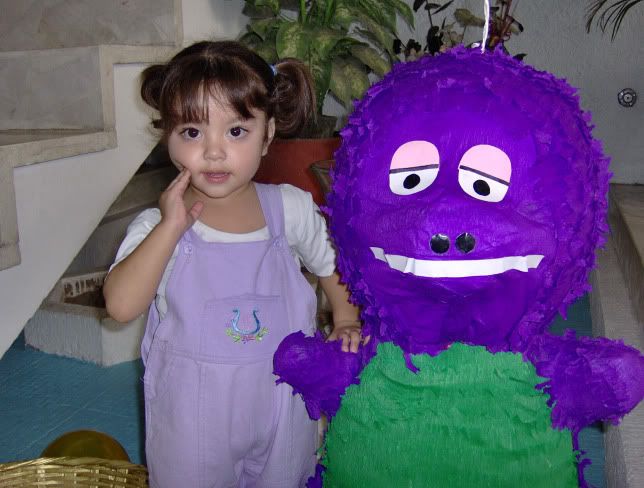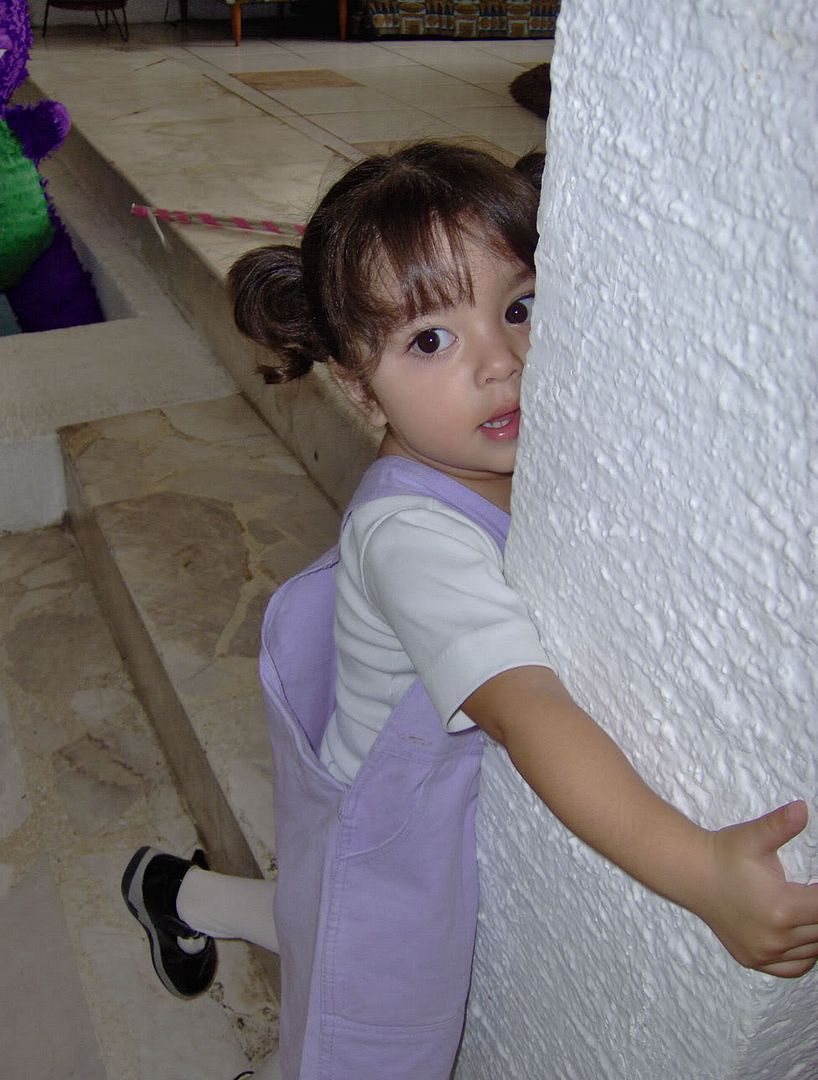 Then everyone started arriving to the party. It was a ton of fun. There ended up being between 30-40 people there. Victor, Lucia's dad, has 12 brothers and sisters, so there were some of them there and a lot of little cousins, and friends, and some of Hilda and Xochitl's family too. It was fun because everyone was so friendly and I enjoyed being able to understand what was going on! I never thought I could be in a room of only Spanish-speaking people and understand and have a good time. Everyone wanted to talk to us and ask us questions and compare here to the U.S. And they always ask us do we like it here, and we always say yes, but we really miss home and our boyfriends! Then, inevitably, we have to show pics of our boyfriends . . . awww . . . :) lol!
This is a picture of me and Hilda, whose home I live in: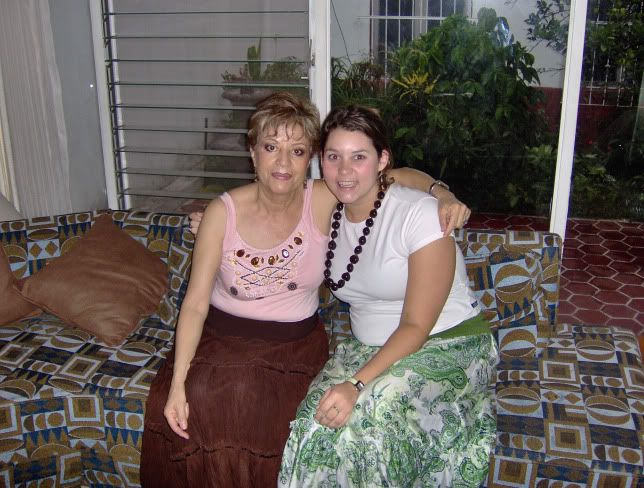 This is Holly and Hilda: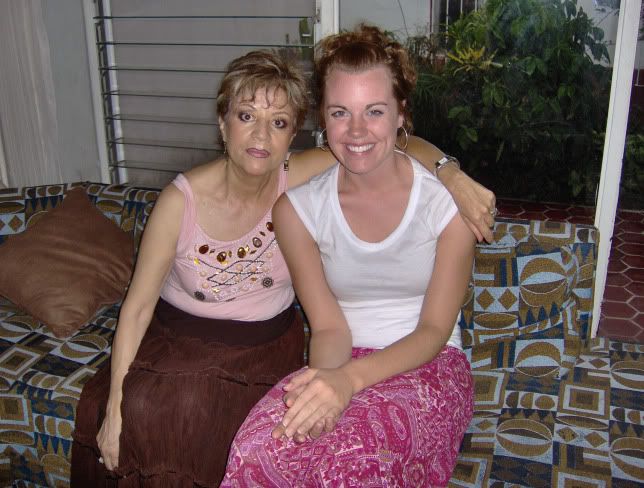 This is Hilda and her amiga, Loulou singing for us:
This is Lucia hitting the piñata ever so lightly, it was adorable: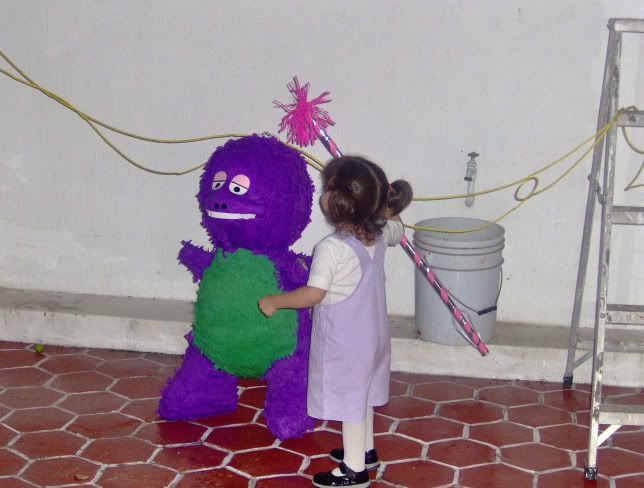 This is Victor, Xochitl's husband: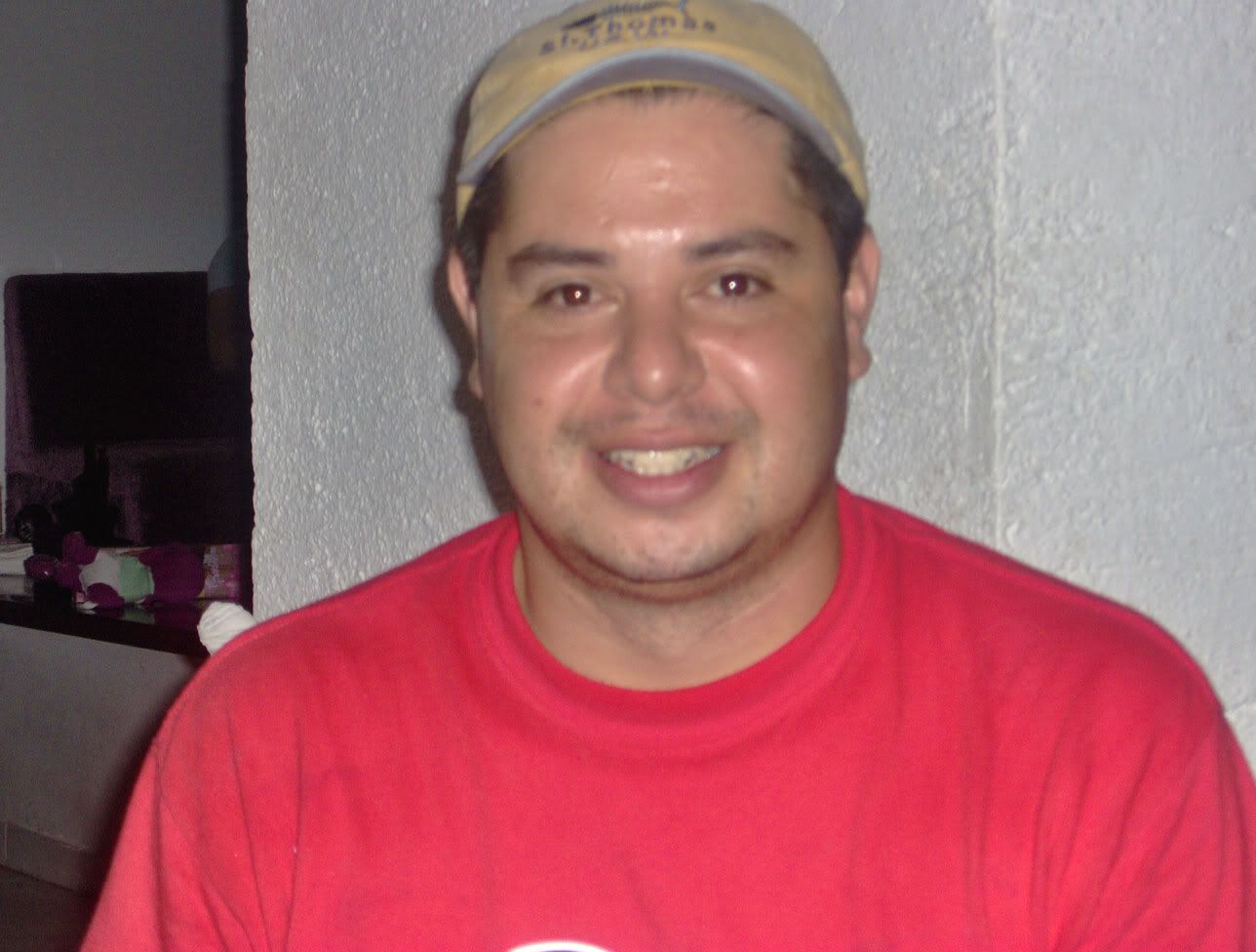 This is Xochitl and her new baby, Mariano:
Did I mention that Mariano is the cutest little baby ever?!: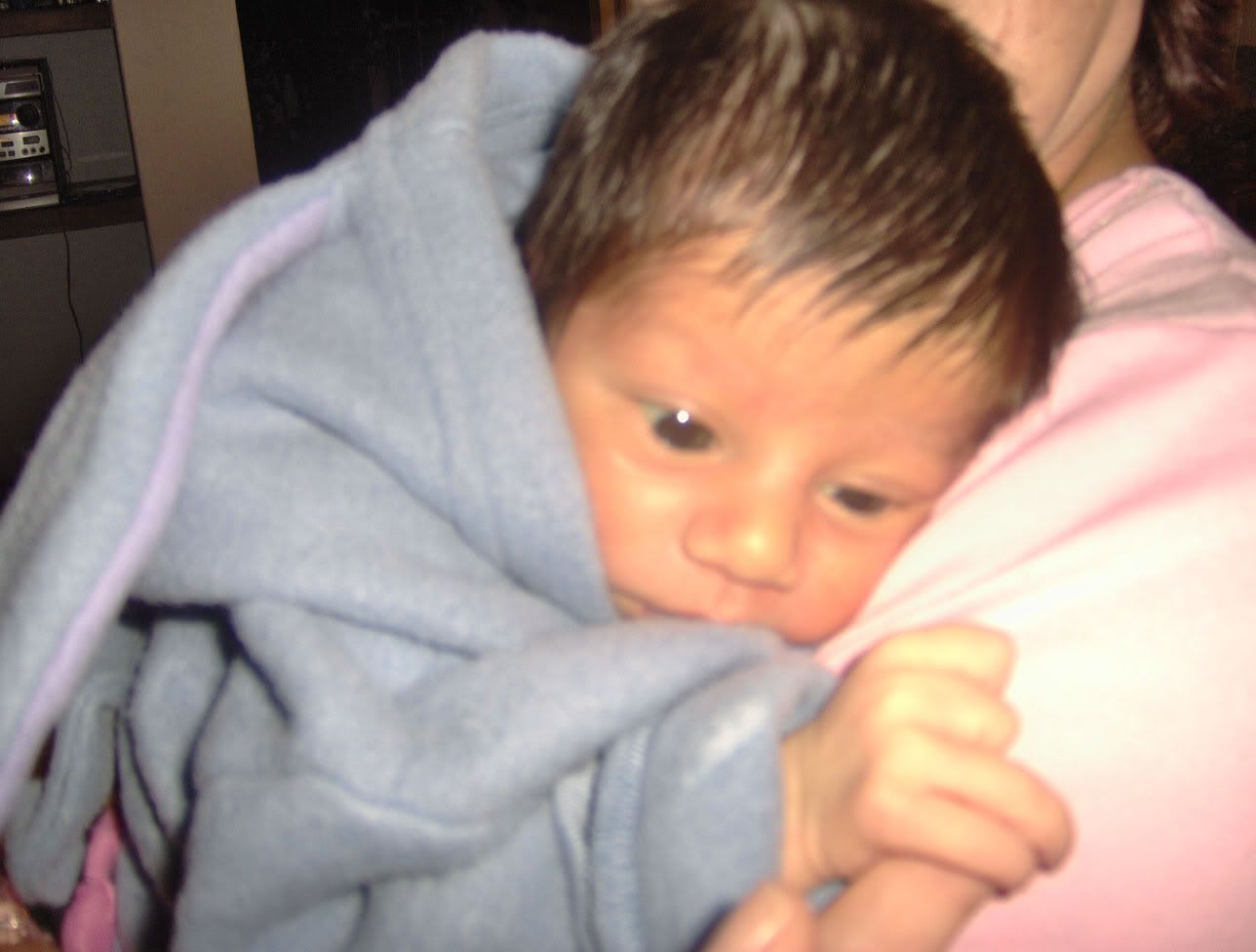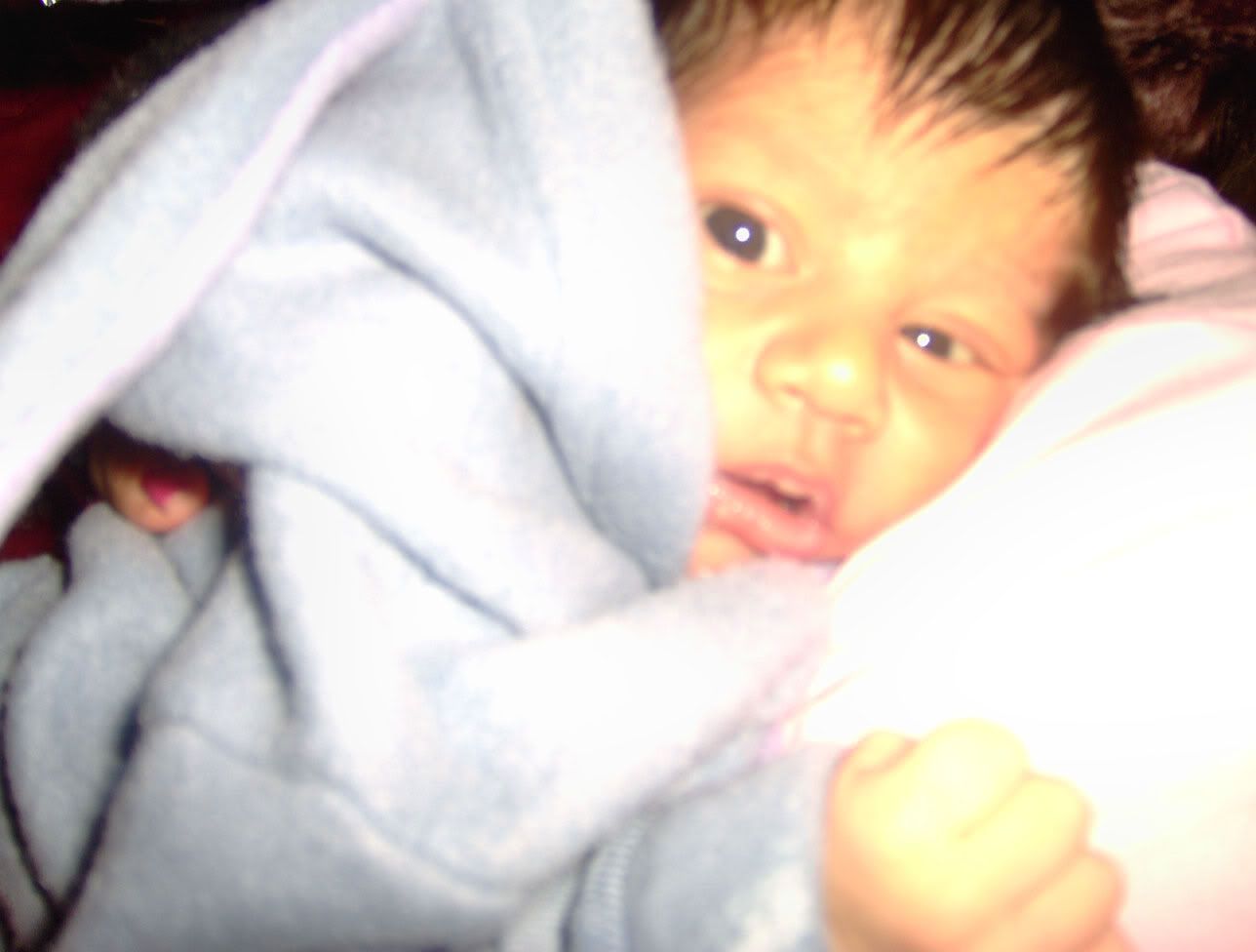 This is the Barney cake: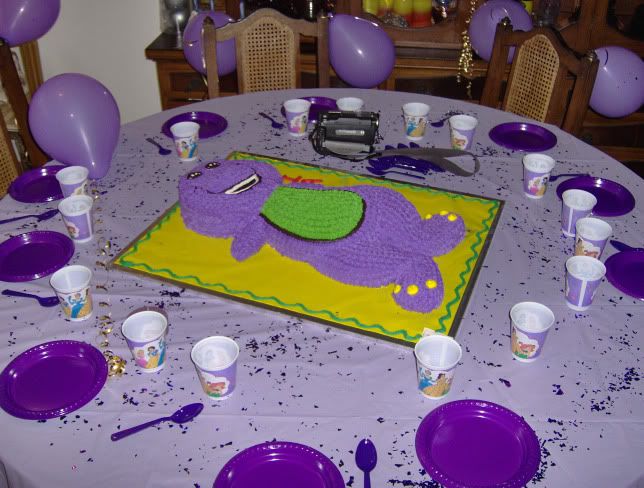 Funny how it's the same things we would have going on at a little kid's party in the U.S.
This is me and Holly enjoying the festivities: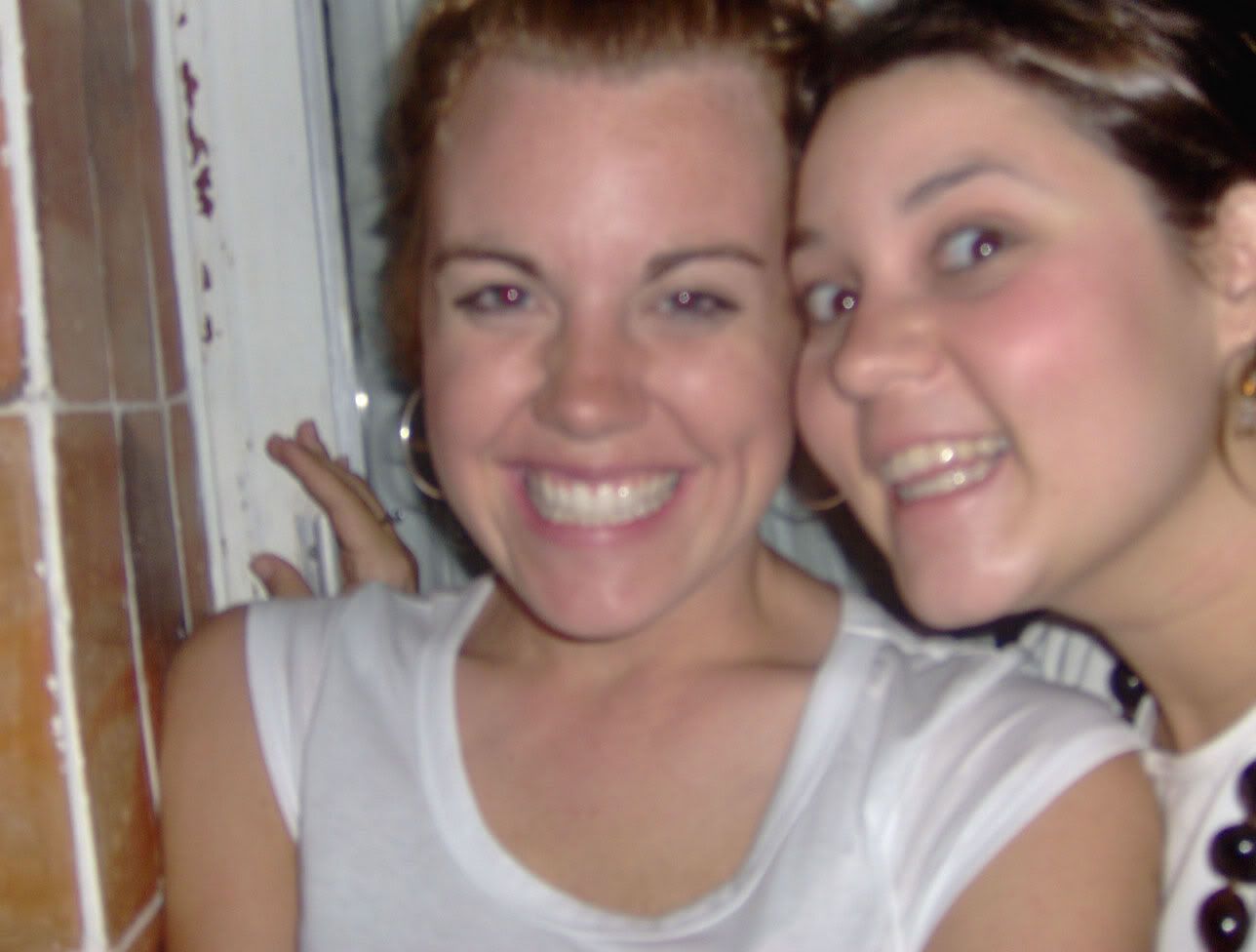 And, finally, this is Solovino: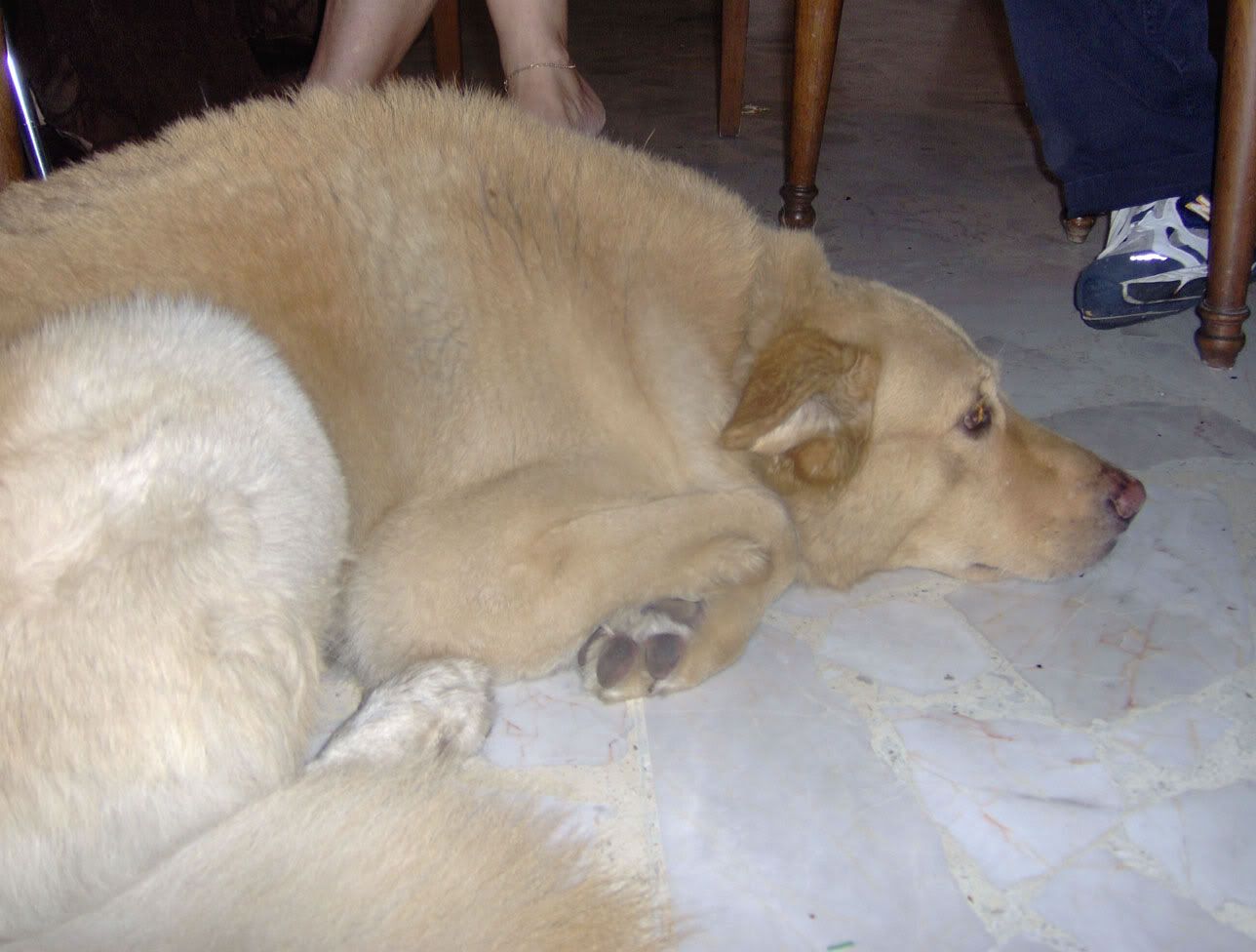 He is one of the neighborhood dogs that Hilda adopts and she kept telling us all night that he was sad to be outside of the party and he wouldn't eat because he was sad, so she let him inside!
And Holly and I were "aguafiestas" [party-poopers] and went to bed at about 11:30, but some of the people were still here and they continued the party all night! Those crazy Mexicans!
So anyway, we slept in the next day and caught the bus to the Centro in Downtown Guadalajara. It is the historic district that we visited last Saturday, but we wanted to see more of it on our own time.
First, we visited Hospicio Cabanas which used to be an orphanage and now has been converted into a museum. Unfortunately, the rooms aren't open right now, they're refinishing them, or whatever, so we could only go in and look and go in the main chapel. The main chapel is yet another place that has gigantic murals painted by Jose Clemente Orozco. This one is the biggest yet, I think! I only put a couple pics on here so you can get an idea.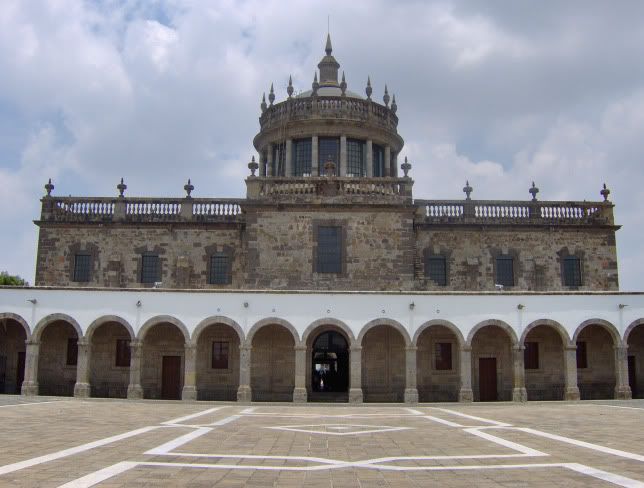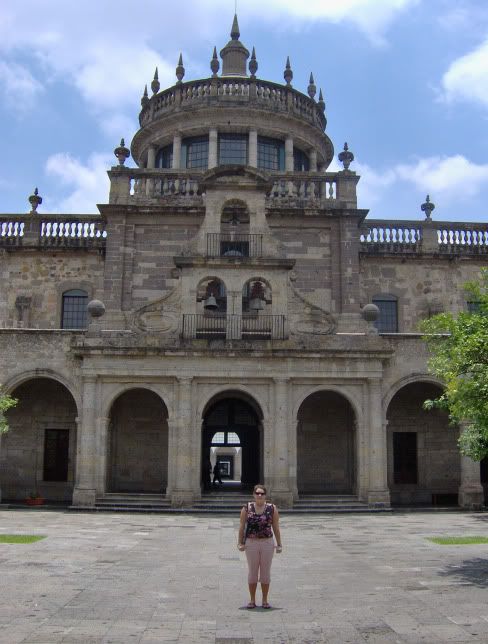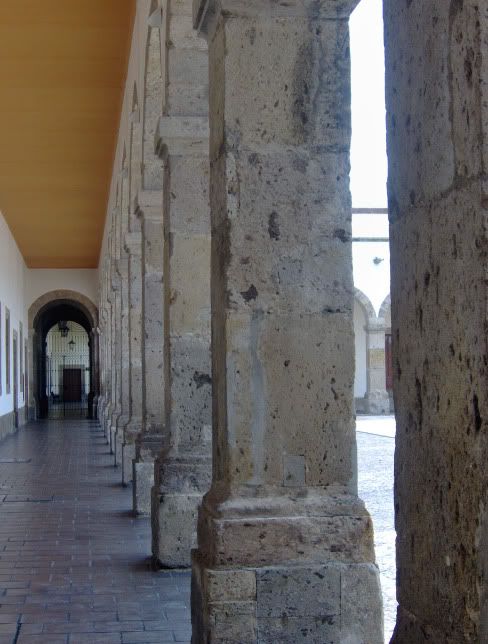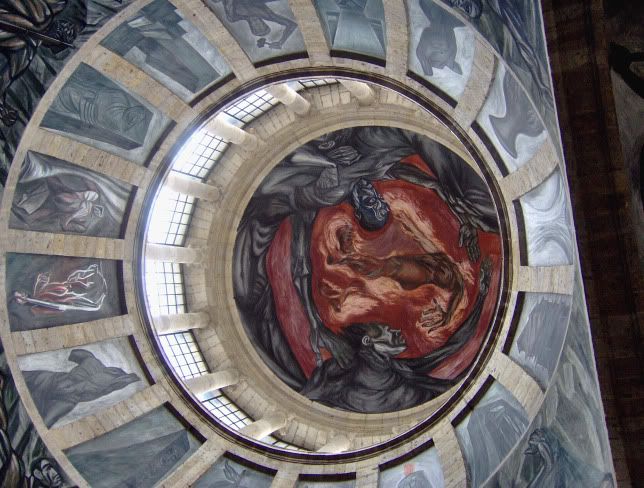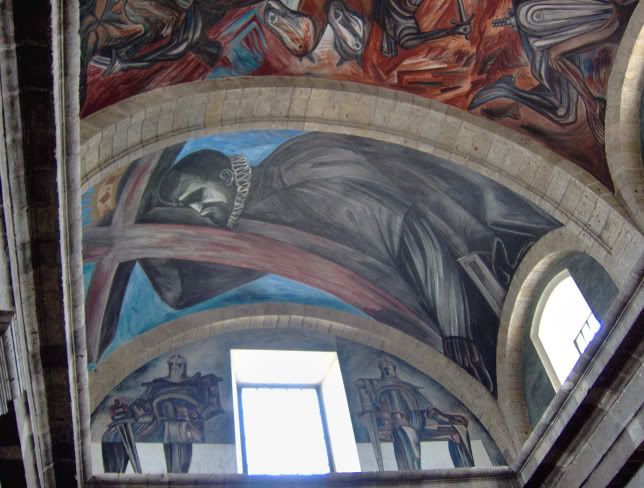 We also took some more fun pics of the neat bronze statues out front of that building. Look at my new Mexican boyfriend!!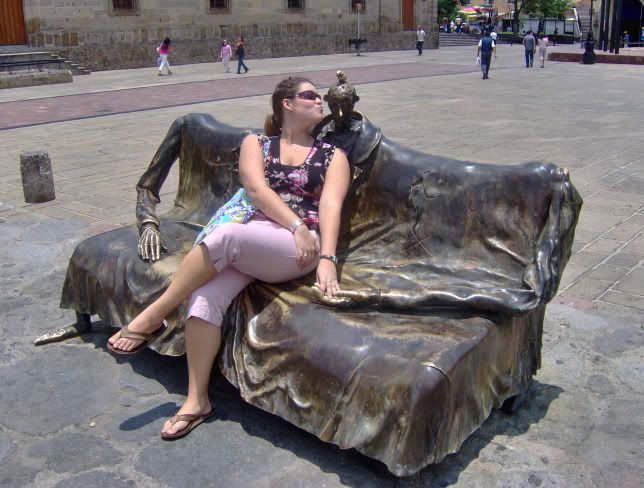 Then we walked back to the Cathedral to spend more time looking there.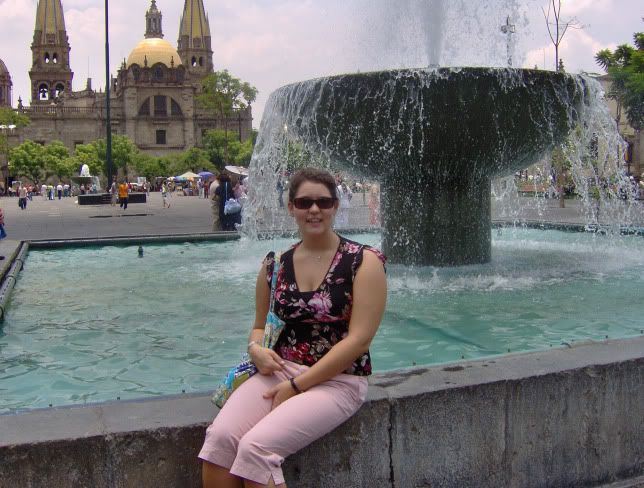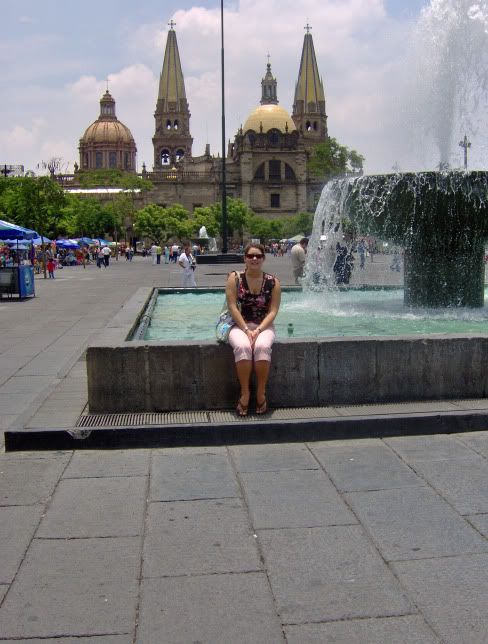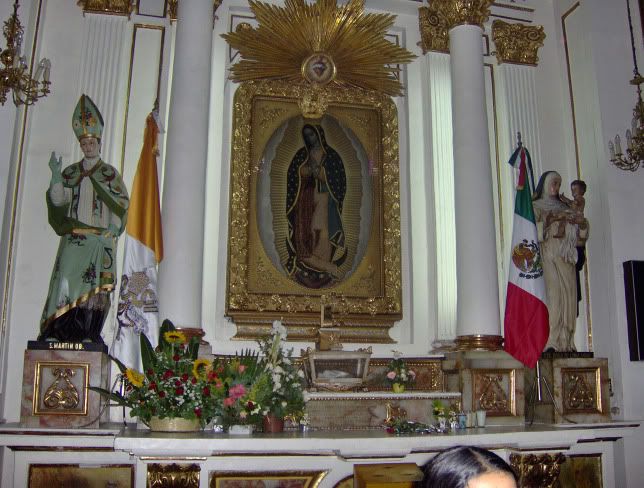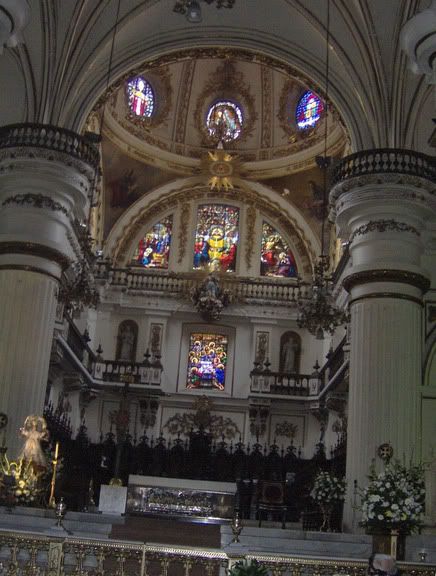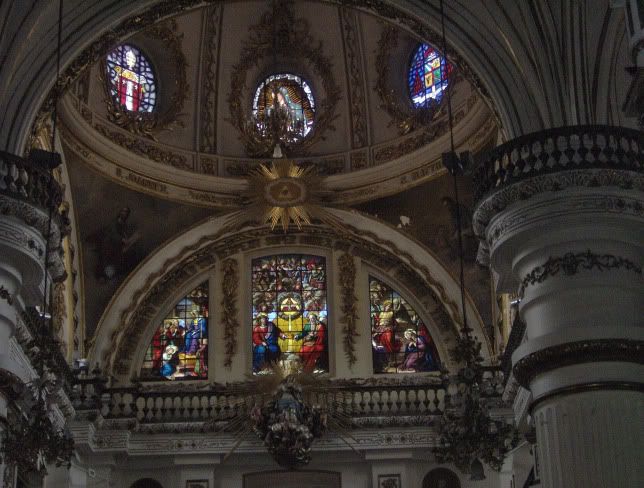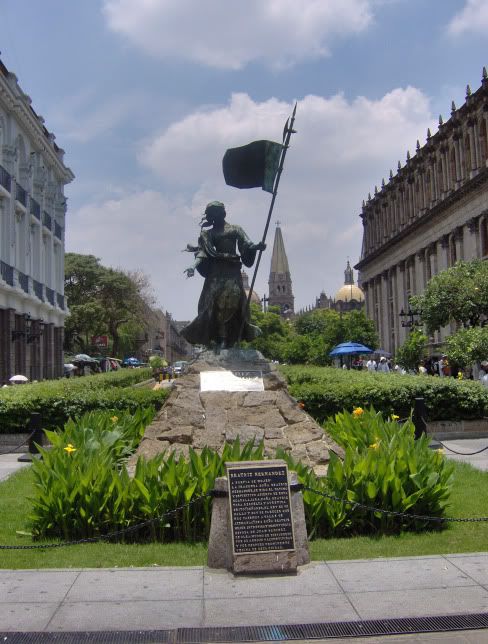 Inside the church are catacombs! They were open, so we went in for a minute. They were really creepy. I mean, REALLY creepy. I took this picture and it's kind of blurry, but it's proof I was there!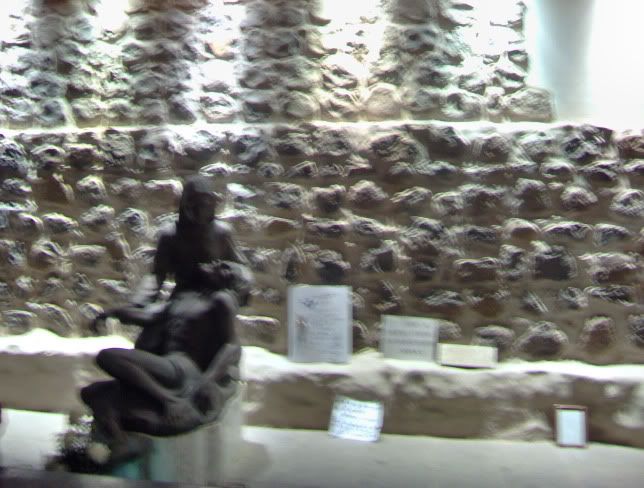 Holly also has one of the corner, where there were just a couple of coffins chillin'. It was wild.
After that we went to the Regional Museum of Guadalajara. They have a Mammoth skeleton!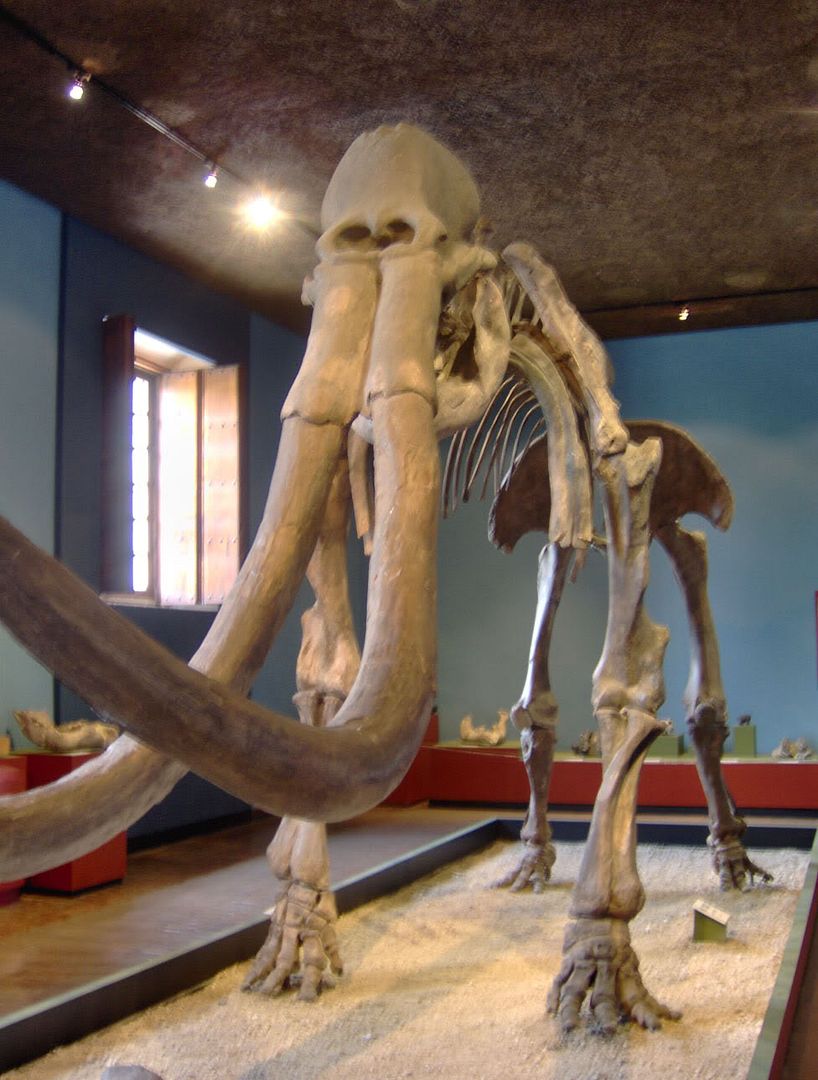 .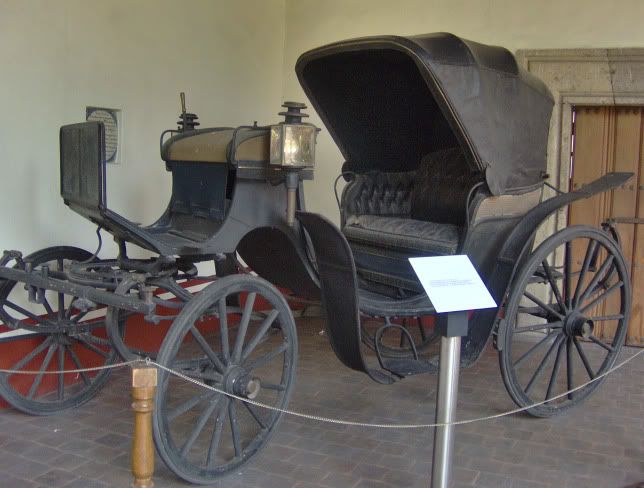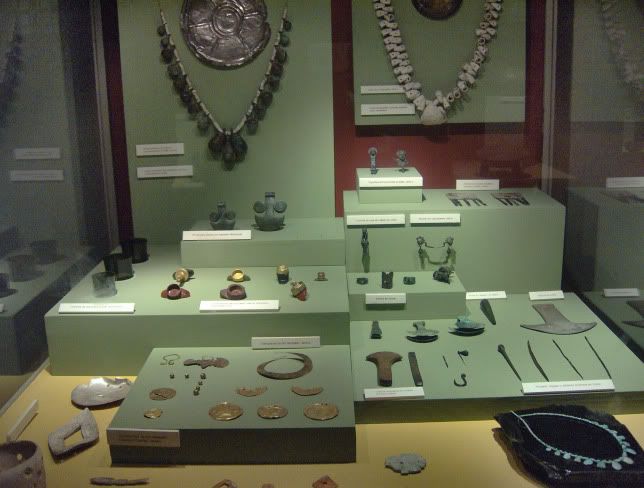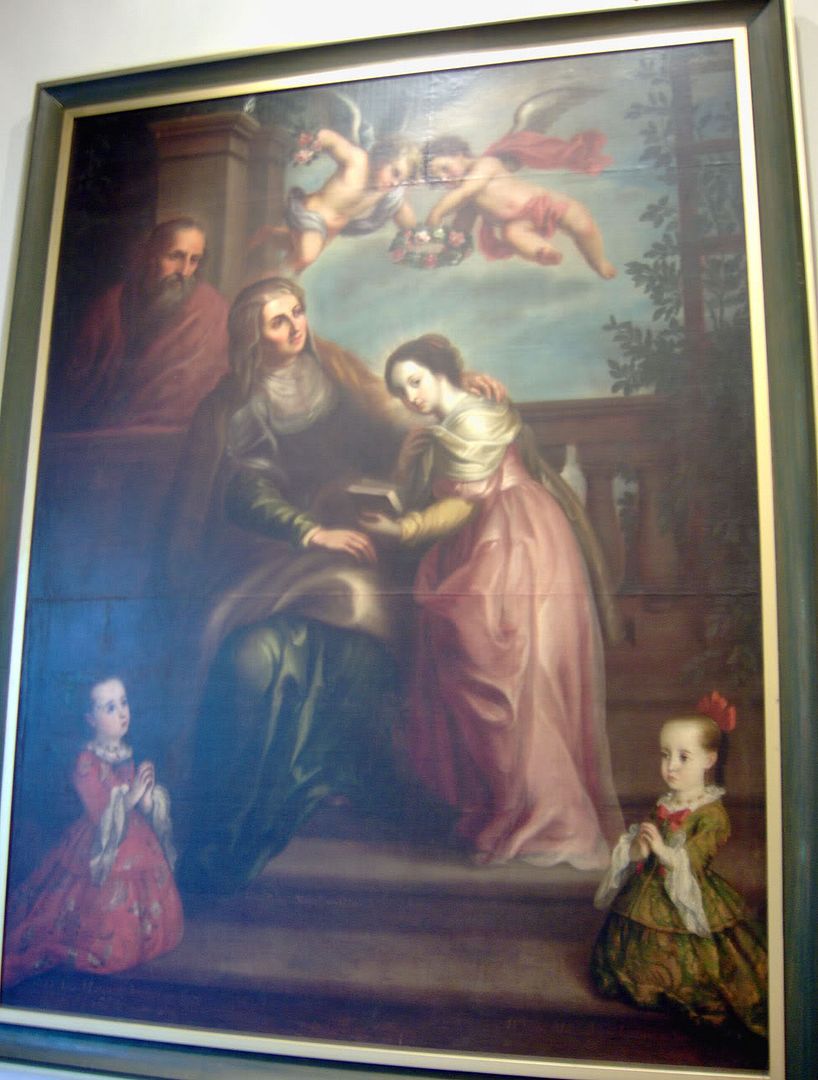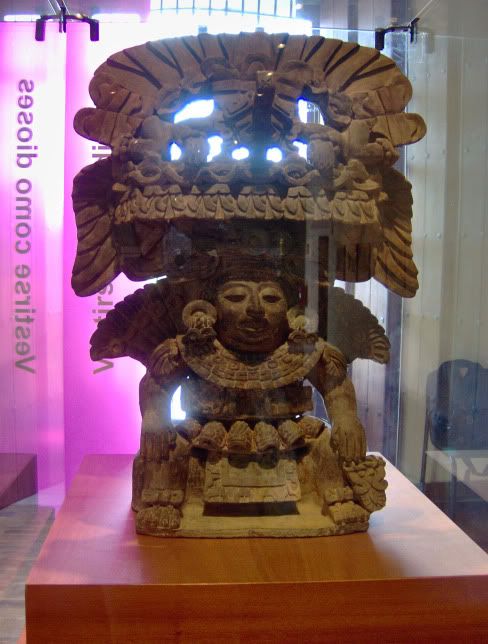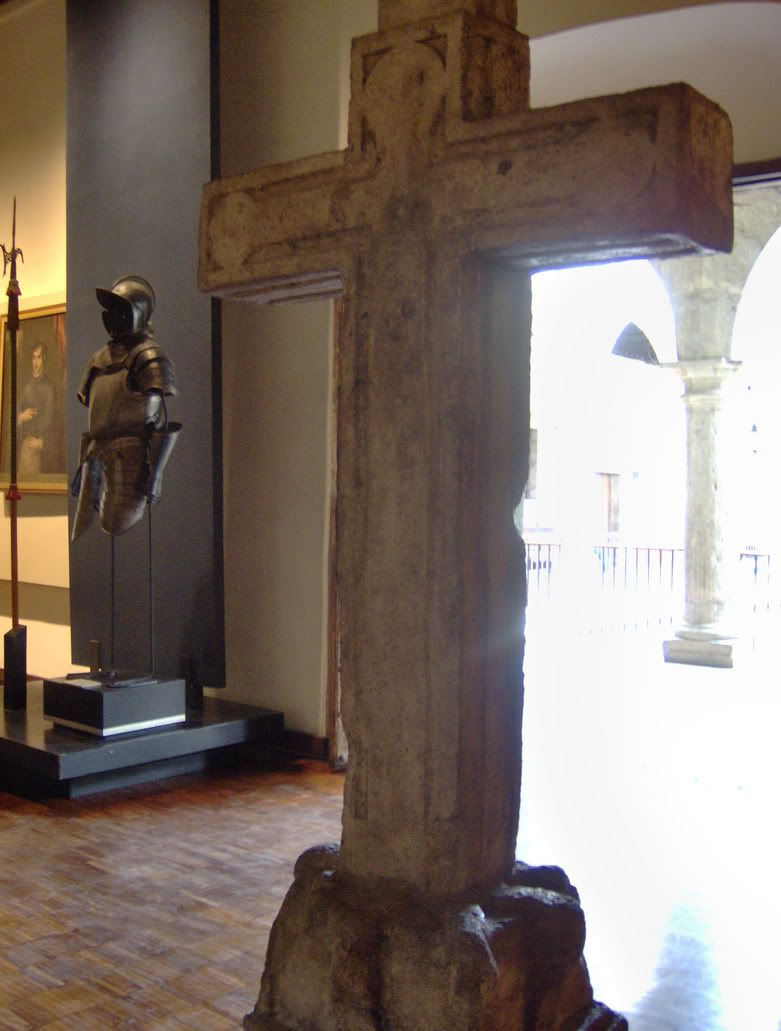 That last one is neat because it is a painting that I used a picture of in one of my presentations in Spanish class last semester and now I've seen the real thing – just kind of neat how things work out like that.
After that, we were really tired and we wanted to go home. Unfortunately, we could not find a bus with a number that we recognized and knew would take us home. So, for after walking around about an hour, passing this church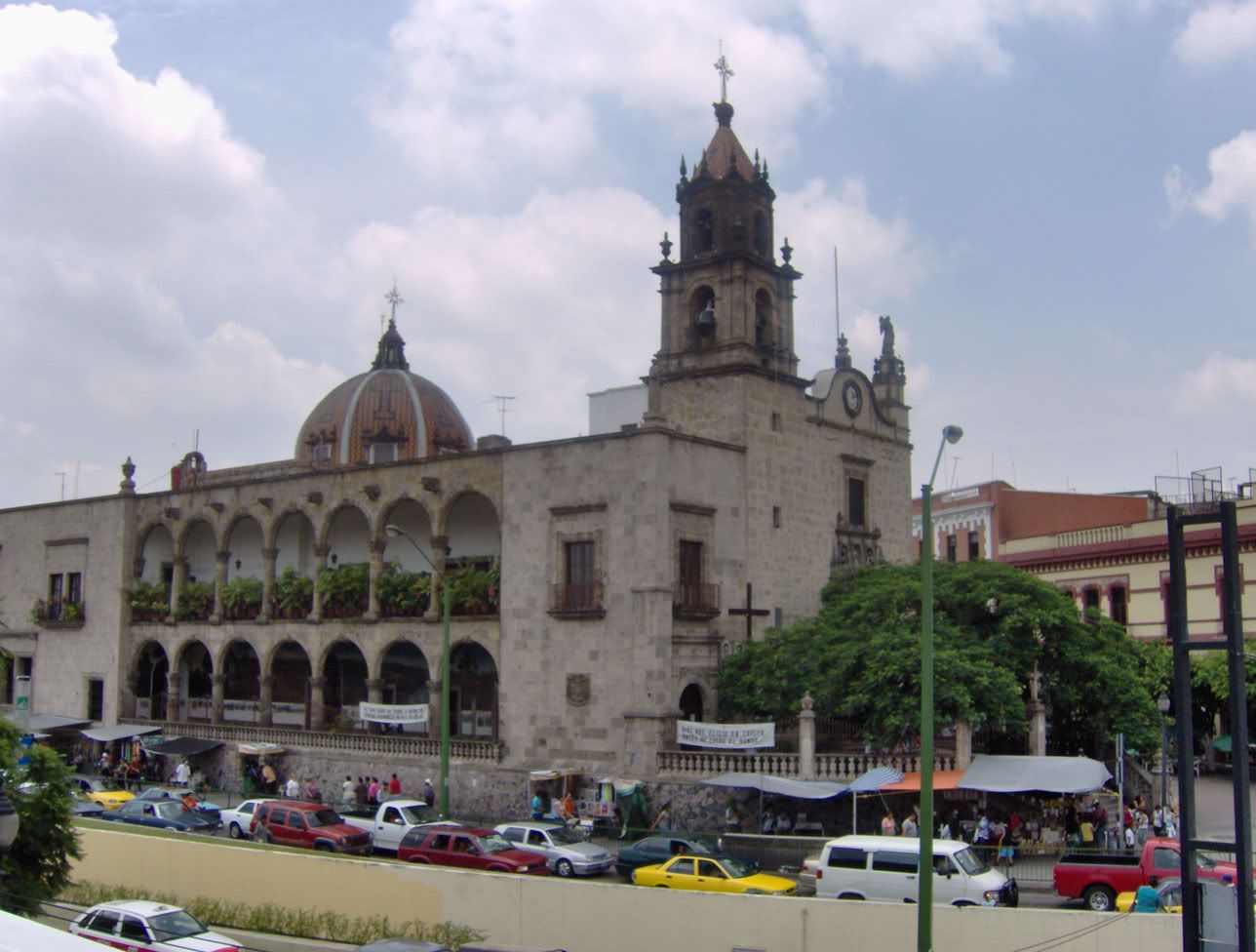 about 10 times, and asking 10 different people and getting 10 different directions, we just decided to take a taxi! It is a little more expensive, but no where near as bad as the U.S. and worth it when you're helpless!
We were starved when we got home. Hilda had informed us earlier that day that Saturdays are like buffets where we eat all the leftovers, but she ended up making us some carne asada [steak] that was very good and we had frijoles [beans] and left over potato tacos.
The next day, we woke up early to go to the nearby suburbs of Tlaquepaque and Tonalá. Well, let me just say that God was watching out for us! First, when we went to catch the bus where we'd been told, we found that road closed for a bicycle race. So I guess we looked really lost and this really sweet old lady came up and asked if we needed help and then walked with us to where the bus would pick us up somewhere else. How nice!
So then we got to Tlaquepaque and it was really nice. There were a lot of nice stores and we liked them a lot. We are thinking of going back another day.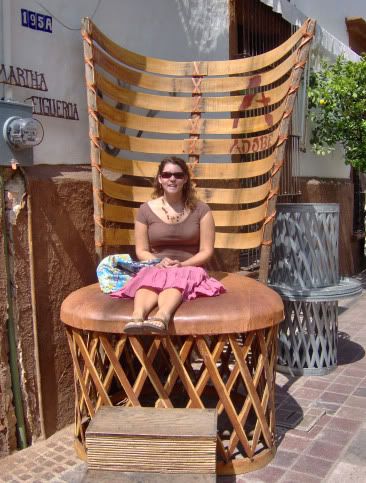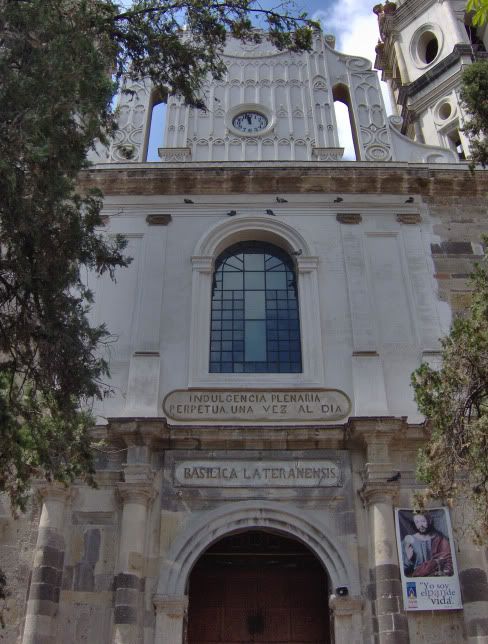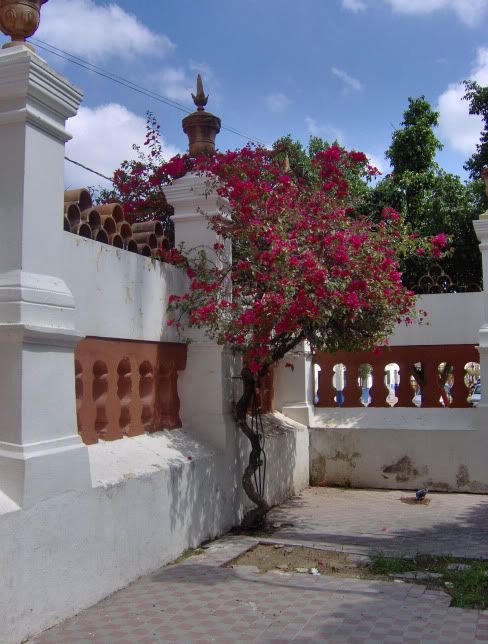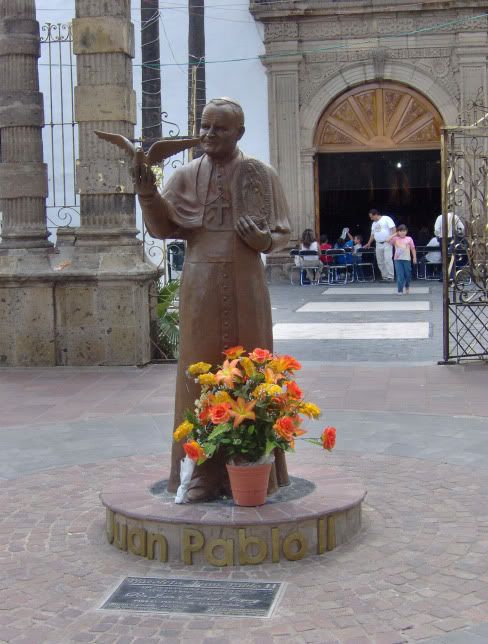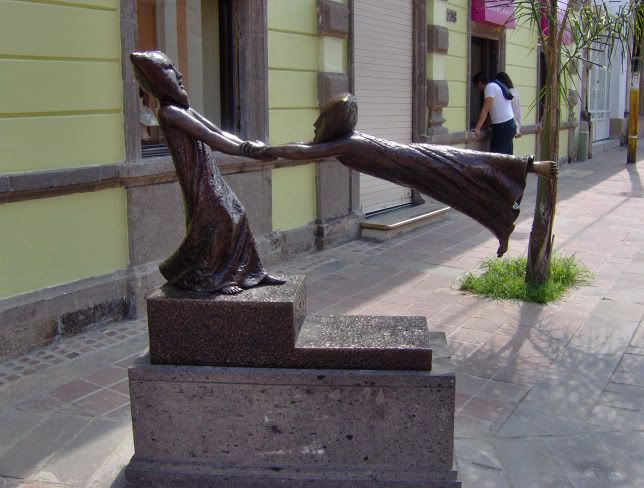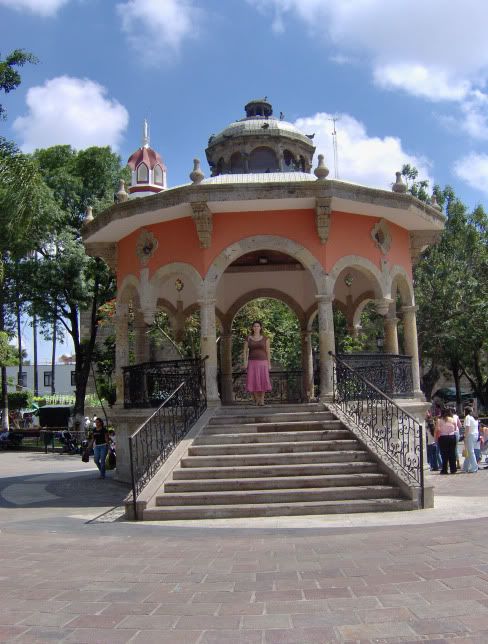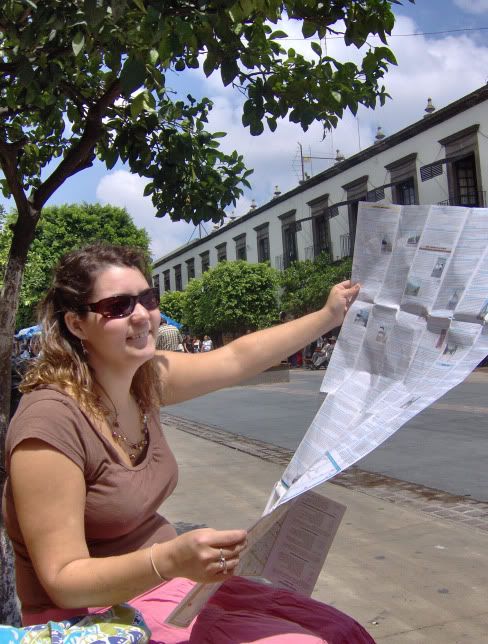 Holly made me take that last one because I was using my map because I don't care about looking like a big fat tourist!
Then we went to Tonalá. Well, it was a disappointment. Our bus could barely go through the streets because they were so crowded with people and vendors because it was market day. Holly didn't feel well, so we tried to walk somewhere with less people where we could see the sights of the town, but the city was old and dirty and just didn't appeal to us. We did see a few things: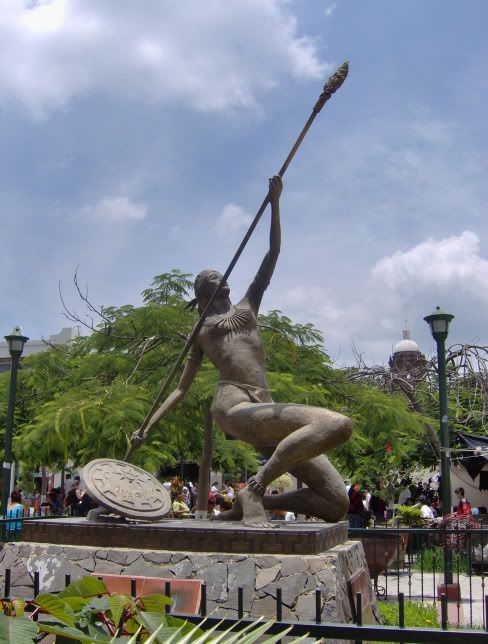 And then we bought a few pirated Spanish cds! Can't go wrong there!
Then we read about "The hill of the Queen"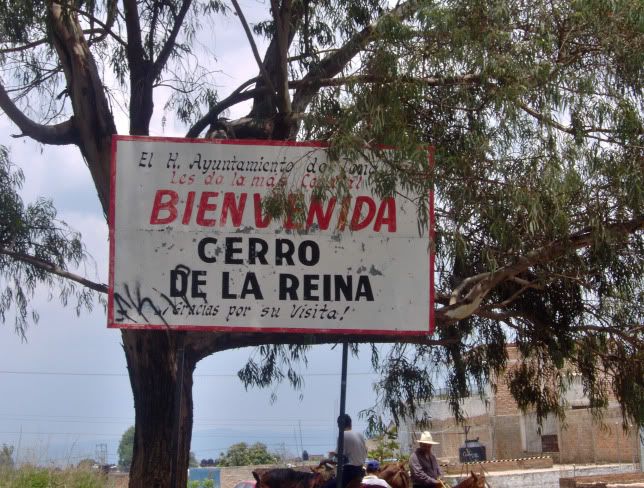 so we walked and walked to that. It was so freaking hot! We had to walk up stairs, oh, about a MILLION of them! And Holly wouldn't let me take a break!!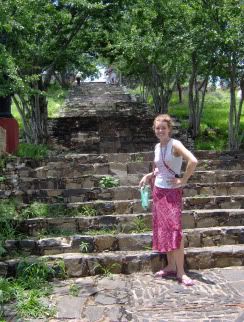 At the top was a chapel to the Virgin of Guadalupe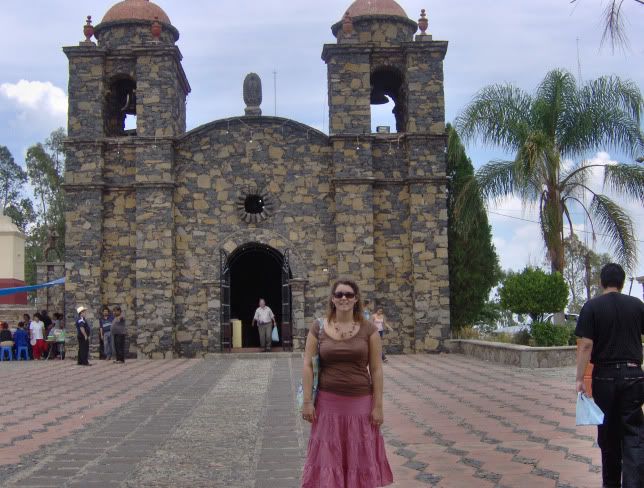 And then you could see the whole city of Guadalajara! It's gigantic!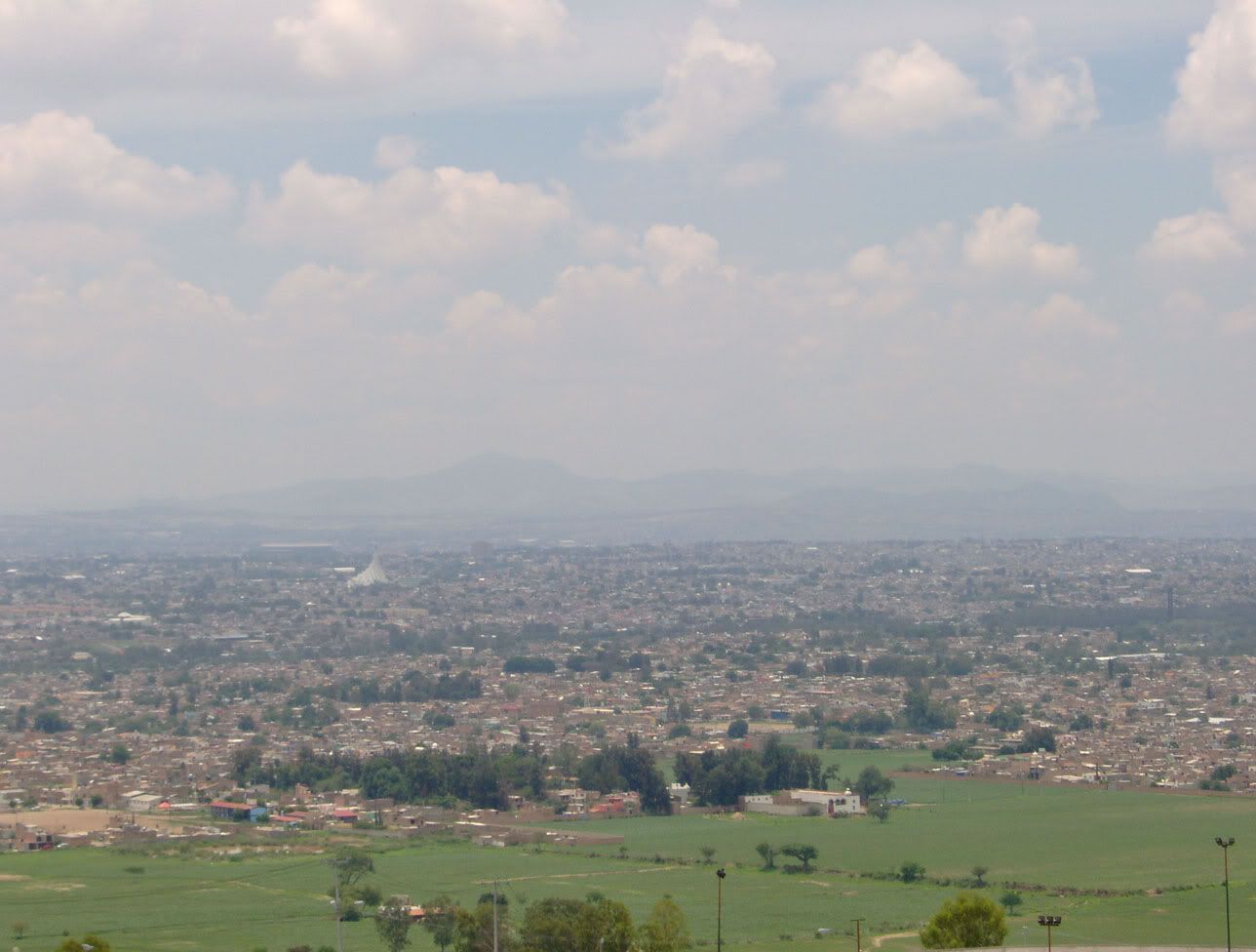 and not a bit left uncovered!
So we left then, but unfortunately, when we got back to the city, we ended up missing our stop and we got another angel! This lady walked up to us and weirdly, knew where we needed to go. We can only guess that she was on our bus and heard us before she got off, but then she took us to the right stop again. From now on, we know that we have to ask the bus drivers to tell us when to get off!!
So that is about it. We were miserably tired when we got home last night, so we slept a lot, so that's good.
Today we just went to class and used the computers. Then we came home and had sopa de pollo jardinera [soup with veggies and pieces from a whole chicken in it!] and sopa tortilla [fried tortilla strips in tomato sauce with cheese]. Now we're about to go eat again and then maybe watch a movie before bed (we bought some pirated movies too! :) ).
Hasta más tarde! [See you later!]